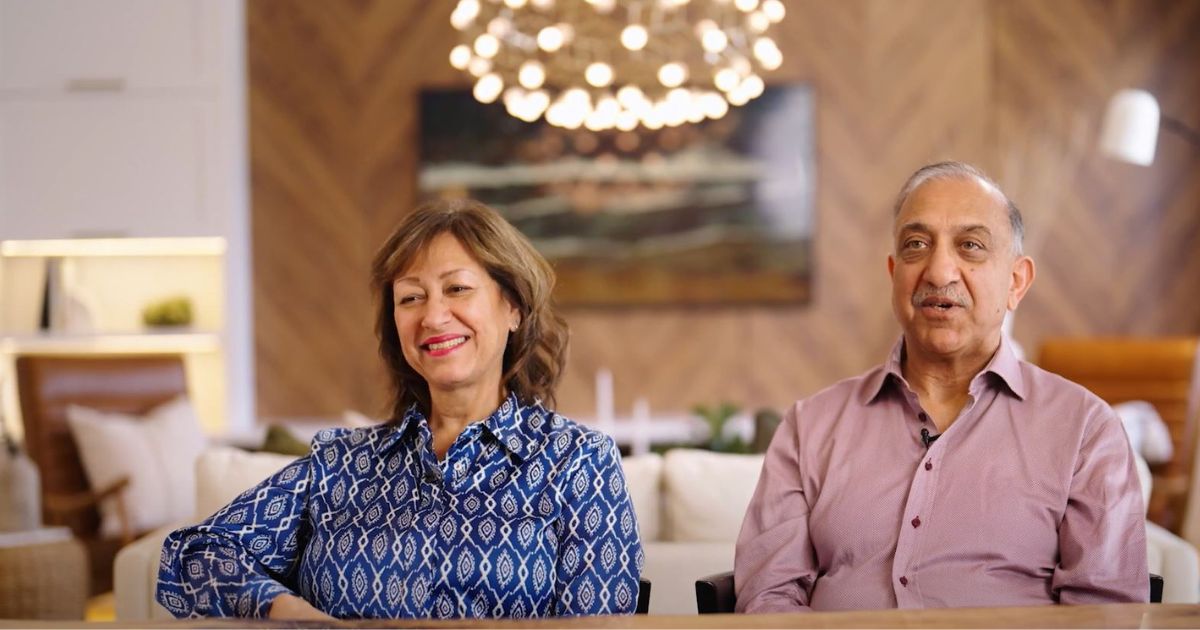 "The design team was fabulous! They made the process very easy. We love living here!"
Poonam & Yahvir
THE HOME RENOVATION CHALLENGE
Our clients' 1990s-era kitchen was cramped, dated, and cut off from the rest of the house. They initially asked us to help them open up the space and give it a modern edge. However, as we walked them through our signature Feasibility Study, it became clear that they could get so much more out of this renovation by allowing us to renovate their kitchen along with the adjacent rooms on the main floor to improve their connection with one another and accommodate key features our clients desired. Our plan included:
Flipping the layout of the main floor to better situate the expanded kitchen.
Eliminating the rarely-used formal dining room and replacing it with a designated dining area in the new open space.
Adding the bar area our client always wanted as a bridge between the kitchen and living room.
Creating the ultimate modern and welcoming entertaining environment throughout the space.
GEORGIAN'S DESIGN-BUILD SOLUTION
We started with a colour palette of crisp white, warm wood tones, gold accents and carefully-placed pops of blue.
In the kitchen, white cabinets, counters and backsplashes are balanced by gold fixtures and custom walnut doors that hide the fridge and pantry. To soften the space, we used branchlike handles on some of the cabinetry and a live-edge Canadian maple slab for the peninsula, which matches the neighbouring dining table.
A statement floor-to-ceiling marble fireplace anchors the dining area and adds a layer of intimate coziness to the large space. Across the room in the living space, a chevron-patterned wood feature wall blends with a mixture of fabrics, leathers, and metal for an inviting space made for relaxing with a drink made at the gorgeous built-in bar.
And because no home can function properly without a big laundry room, we tucked away a blue gem that features stunning Portuguese tin-glazed ceramic tile and tons of storage.
THE TRANSFORMATIONAL RESULT
This home transformation was beyond what our clients could have imagined when they began their renovation journey– see what they had to say in the testimonial video below!
MATERIALS & FINISHES
Kitchen
Cabinet Colour: Decorator's White CC-20 by Benjamin Moore
Accent Cabinets: Carini Walnut by Mercury Wood
Island Table Base: Chromix Silver F638 ST16 by Decotec
Countertop & Backsplash: Gloria White Quartzite by Cava Surfaces
Fireplace Surround: Premium Macchia Vecchia, Porcelain, by Onyxa
Engineered Hardwood Flooring: Scandinavia Collection, Santorini, Wire Brushed Texture by
Grandeur Hardwood Flooring
Family Room
Cabinet Colour: Decorator's White CC-20 by Benjamin Moore
Accent Wall: Chevron Woodgrain Wall stained to match Carini Walnut by Mercury Wood
Bar Cabinets:

Gentleman's Gray 2062-20 by Benjamin Moore
Carini Walnut by Mercury Wood

Countertop & Backsplash: Gloria White Quartzite by Cava Surfaces
Engineered Hardwood Flooring: Scandinavia Collection, Santorini, Wire Brushed Texture by Grandeur Hardwood Flooring
Laundry Bathroom
Cabinet Colour: Gentleman's Gray 2062-20 by Benjamin Moore
Accent Cabinets: Carini Walnut by Mercury Wood
Countertop: Awaken by HanStone
Floor Tile: Carpet Vestige Natural Decor by Aparici
Sign Up for Your
Free Design Consultation Today