An Open-Concept Main Floor for a Family's Next Phase
What does it feel like to come home? As our recent clients phased into the next stage of their lives as recently-retired professionals, they wanted their outdated Oakville house to reflect who they are, from its functionality to its design, so that coming home felt natural.
The Pain Points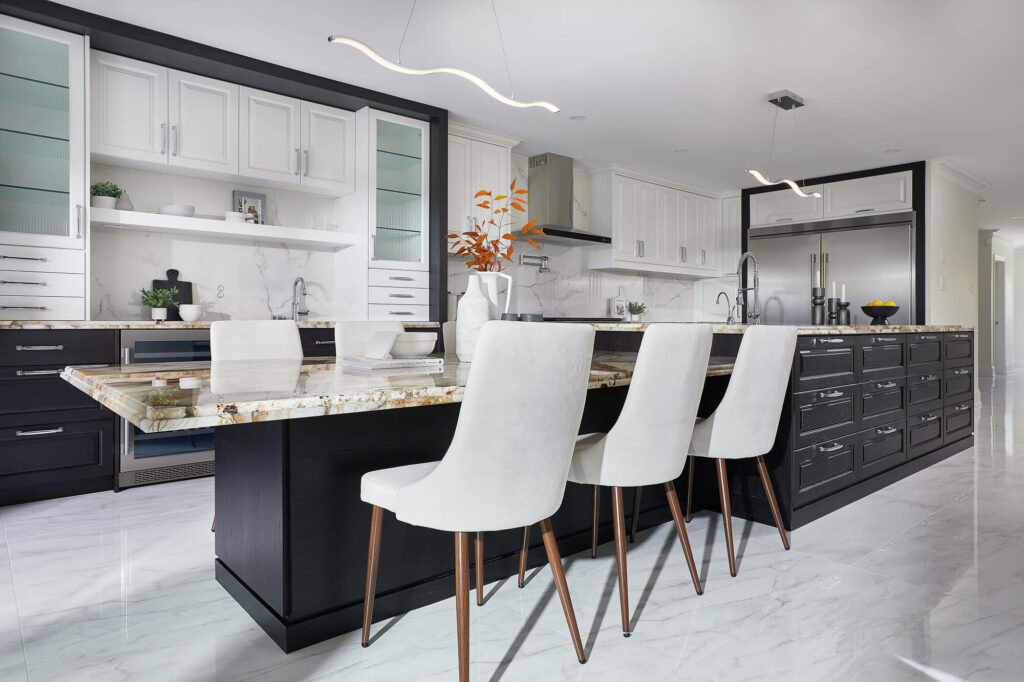 Dark, dated, and cramped, the house was anything but the open and welcoming oasis these homeowners wanted. The kitchen was completely cut off from the dining and living rooms, making it difficult to entertain family and friends, and was also lacking in storage. What's more, the too-small windows that dotted the downstairs did nothing to take advantage of the stunning natural view of the backyard.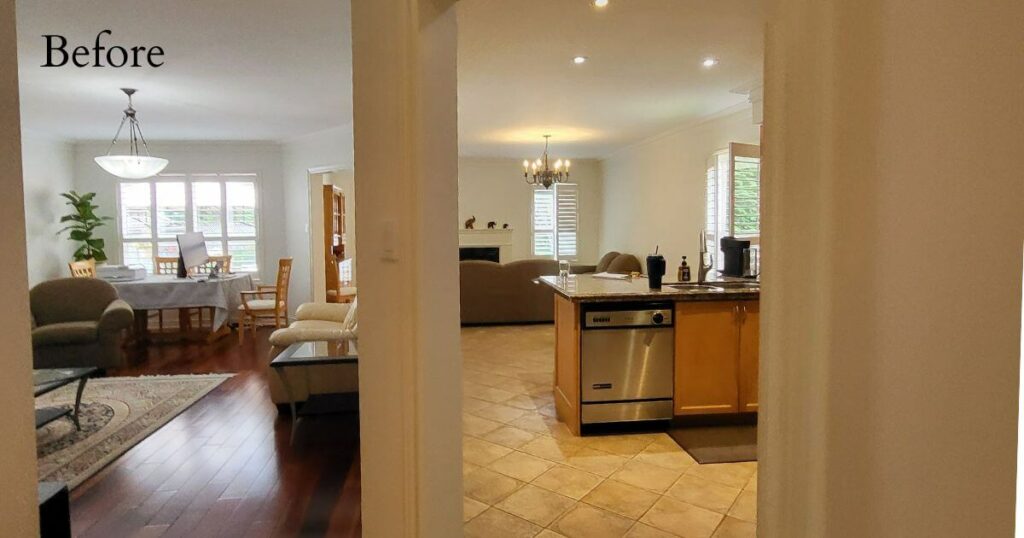 In terms of style, the space was quite outdated, and definitely didn't reflect our clients' eclectic taste, inspired by the different cultures they'd encountered while living abroad. In order to properly reflect its inhabitants, the new design we'd need to come up with would have to be anything but basic, and our team of designers was ready to rise to the challenge.
An Inclusive Design-Build Process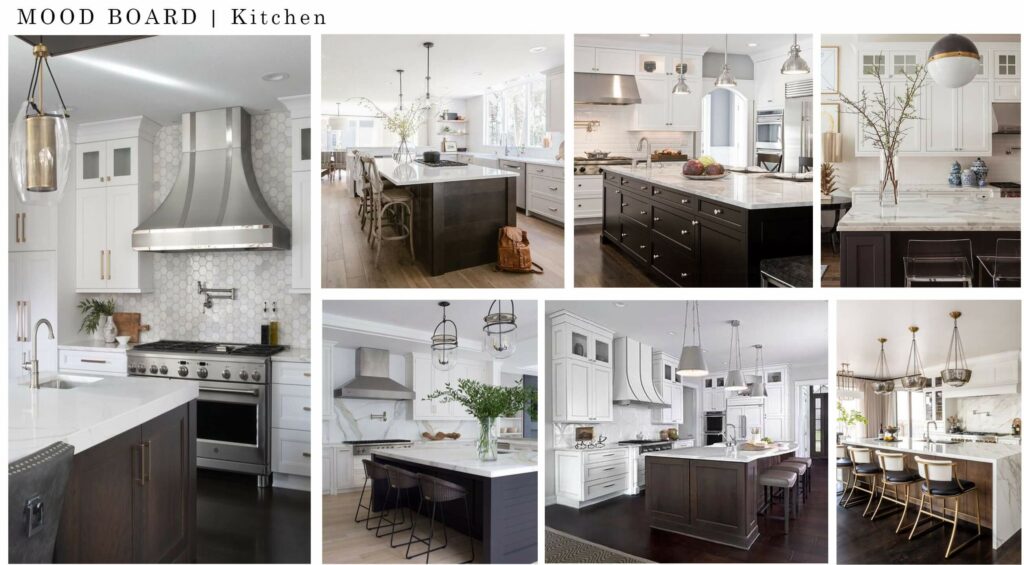 Georgian's unique design-build process ensures that our clients are involved in every decision throughout the project, from initial concepts to the final reveal. Starting with our signature Feasibility Study, these homeowners provided us with the information we needed to create a series of mood boards, floor plan options, and artistic renderings so they could better envision their finished space. Together, we worked to mesh all the elements they loved into a final floor plan.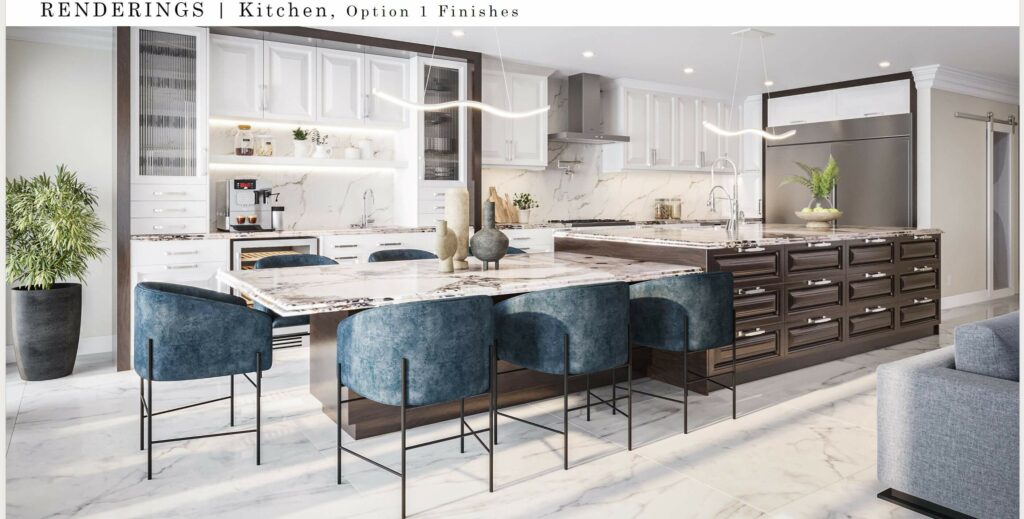 Then, as construction began, we met weekly with the homeowners to provide them with updates and review plans, to ensure they were completely happy with the project.
A Spacious New Kitchen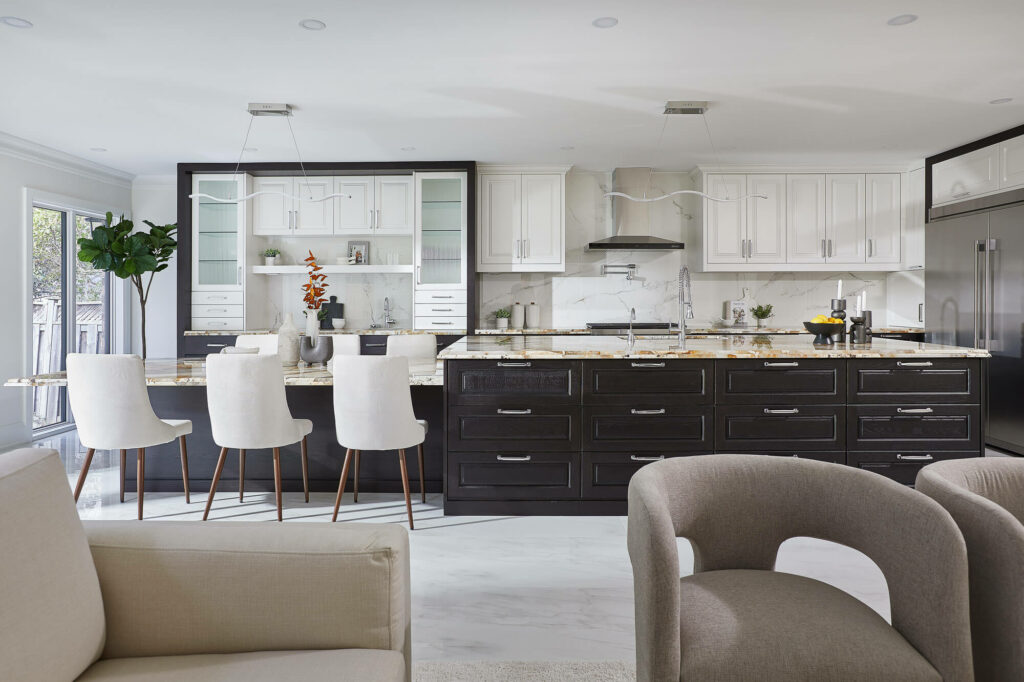 A far cry from its cramped and dark original, this bright, sprawling new kitchen is now everything our clients dreamed of! An enormous island with a striking Patagonia countertop and endless built-in storage in a stained oak sets the stage, while cabinets and shelving painted in Benjamin Moore's Oxford White (CC-30) stretch across the back wall, blending perfectly with the porcelain-slab backsplash from Ciot.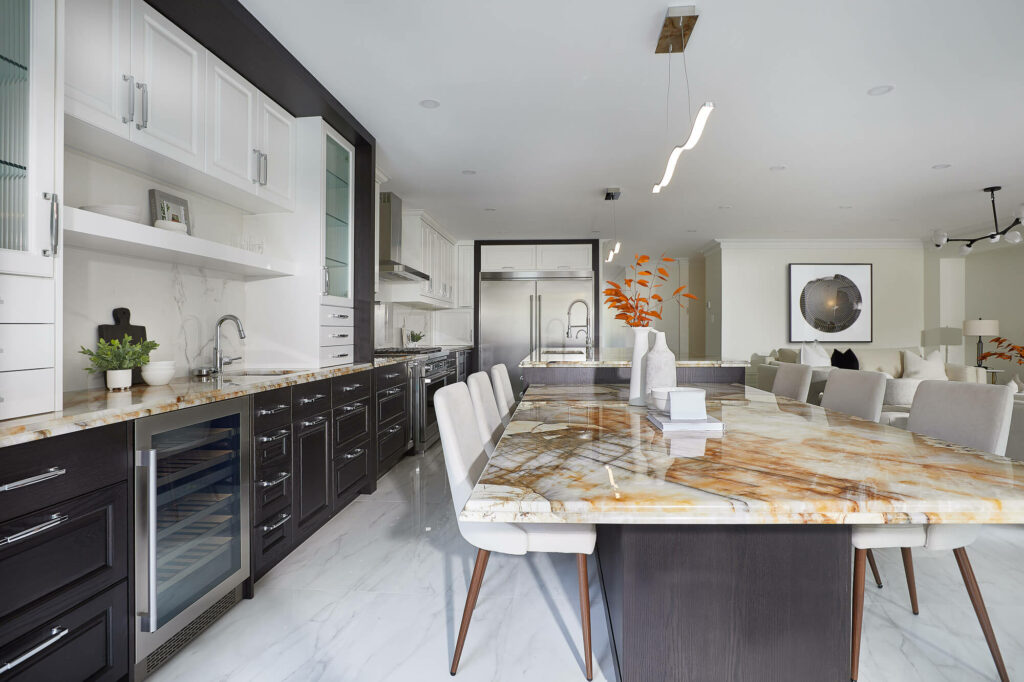 A peninsula off the island serves as a roomy dining table so guests can sit and chat comfortably as the hosts prepare a delicious dish. Within easy reach, a custom beverage bar features a separate sink, fridge, and enough counter space to pour everything from morning coffees to favourite cocktails.
Just out of sight, a roomy pantry is well-equipped to handle overflow items, solving our clients' storage issues once and for all.
A Living Area Made for Comfort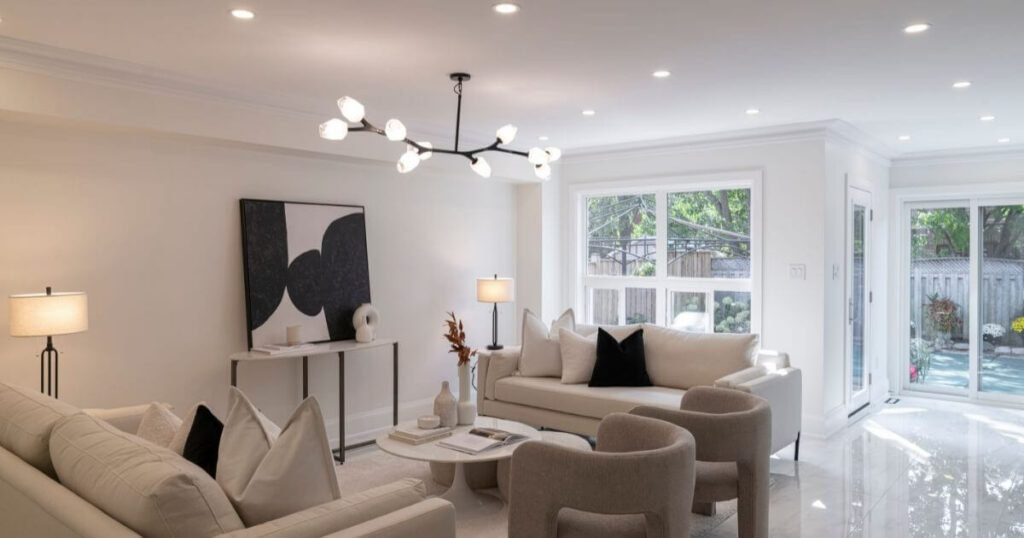 Across the Calacatta porcelain tile floor from BIANCO D'ITALIA, the new, luxe living room is the ultimate spot to relax and enjoy the company of family and friends. A cozy-yet-modern gas fireplace encased in a marble surround blends with the other natural tones in the nearby kitchen, while a dark wood mantle injects casual vibes for the perfect balance. Built-ins create opportunities for our clients to showcase their favorite treasures, while an eclectic lighting fixture creates a statement of its very own.
Making the Connection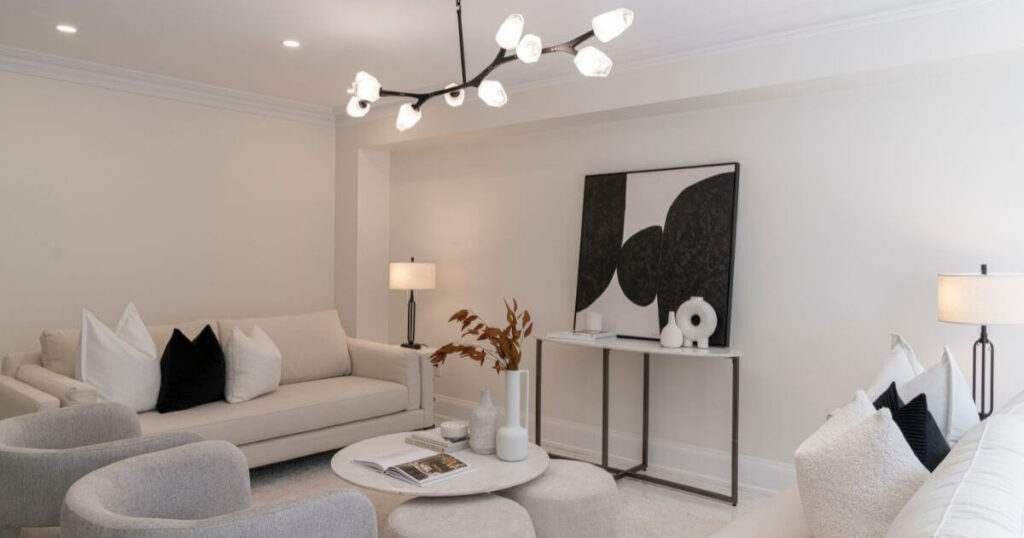 Creating cohesiveness between these two spaces was key, but came naturally with the new floor-to-ceiling windows along the back wall of the house, along with a common paint colour—Sherwin Williams' Alabaster (SW 7008) and continuous flooring throughout.
This open-concept main floor is exactly what our clients had been hoping for to enjoy the next phase of their lives. With a clear connection, more than enough room to mingle, beautiful views, endless storage, and, of course, a style that fits their well-traveled aesthetic, this is now a house where our clients can feel truly at home.
Life is short—renovate now! Contact Georgian to begin your home transformation journey today.