Transformation Journey Helps Homeowners Find a Style They Love
When our Mississauga clients recently approached us looking for help to update their decades-old home, they weren't quite sure what they wanted in a renovation, but they knew they definitely didn't want to take on another major house project on their own. As the original homeowners, they felt that the house had served their family well for decades, but it just didn't fit their changing lifestyle anymore.
To triangulate on a plan that would fit their needs and solve their pain points, our team began with our signature Feasibility Study to better understand our clients' goals, style preferences, budget, and more. From there, we created a series of artistic renderings so the homeowners could visualize the completed space. By picking and choosing elements from the different design iterations, we arrived at a solution that met their needs and tastes.
A Spacious and Striking Kitchen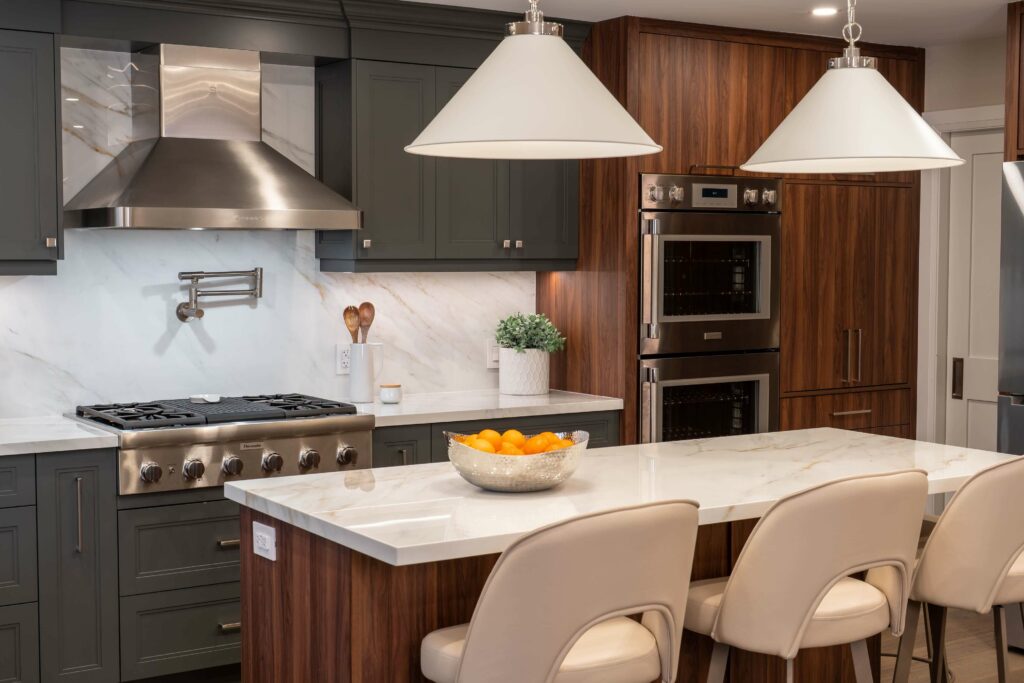 One of our clients' biggest sources of frustration was that their old kitchen simply wasn't big enough to accommodate four adults at one time. Our solution was to expand the footprint and add a large island for additional seating and food prep area. We took over the original dining room and relocated the powder room to gain the extra space for the kitchen.
Through the Feasibility Study, we learned that deep, dark colors and a casual feel suited their style much more than a standard white kitchen. To create the right vibe, we combined rich woods with Shaker style cabinets painted in Benjamin Moore's Iron Mountain (2134-30) and stainless steel appliances for a striking look. The white Borghini porcelain by Cava Surfaces we selected for the countertops and backsplash balances the space, allowing the features to really shine.
A pocket door tucked in by the fridge which leads to a spacious walk-in pantry was the ideal choice for a small doorway, and allows for easy access to gather ingredients when cooking. Finally, we selected a beautiful engineered hardwood floor in Arizona from Hardwood Planet to complete the new space.
Bringing the ~Mood~ to the Living Room
With an open floor plan, it's so important for interior design to flow seamlessly from one space to the next, which is why we incorporated the same wood-and-grey palette along the feature wall in the living room. Custom lighting illuminates the Shaker style built-ins, which are painted the same color as the kitchen cabinets, and a slim Dimplex, IgniteXL® Built-in Linear electric fireplace provides a cooler alternative to its gas counterpart. With a mounted TV as a finishing touch, this updated space is a modern marvel.
A Pop of Color (and a Lot of Luxury) Complete Primary Bath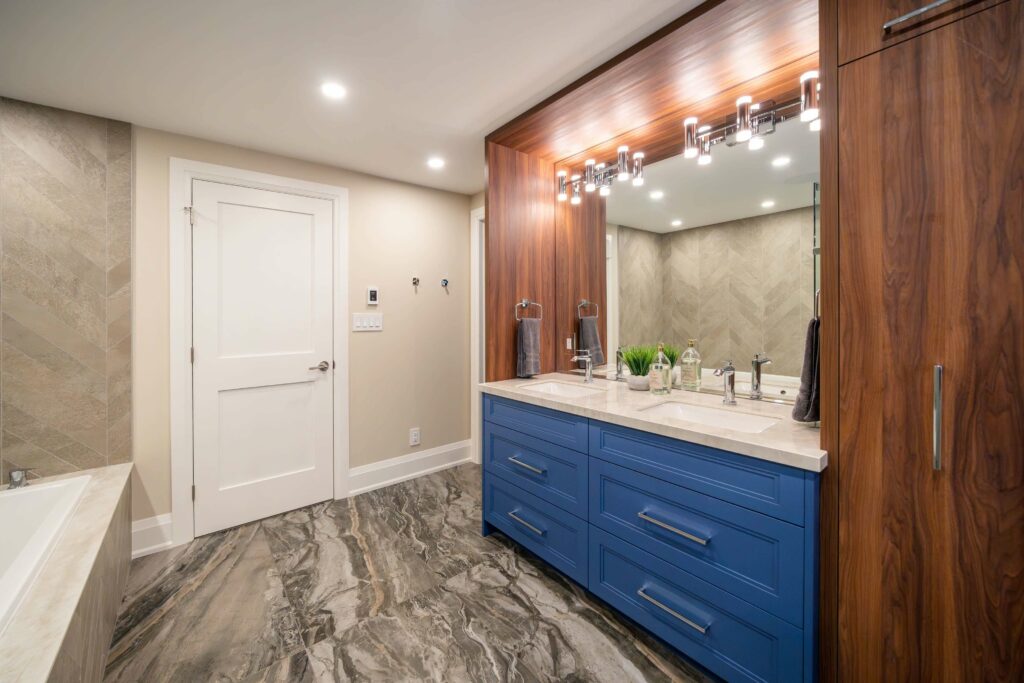 From the stunning grain of the marble floor and the chevron tilework on the walls to the stunning wood application and pop of Benjamin Moore's Kensington Blue (840) around the vanity, this primary bath is the perfect intersection of luxury, sophistication and fun.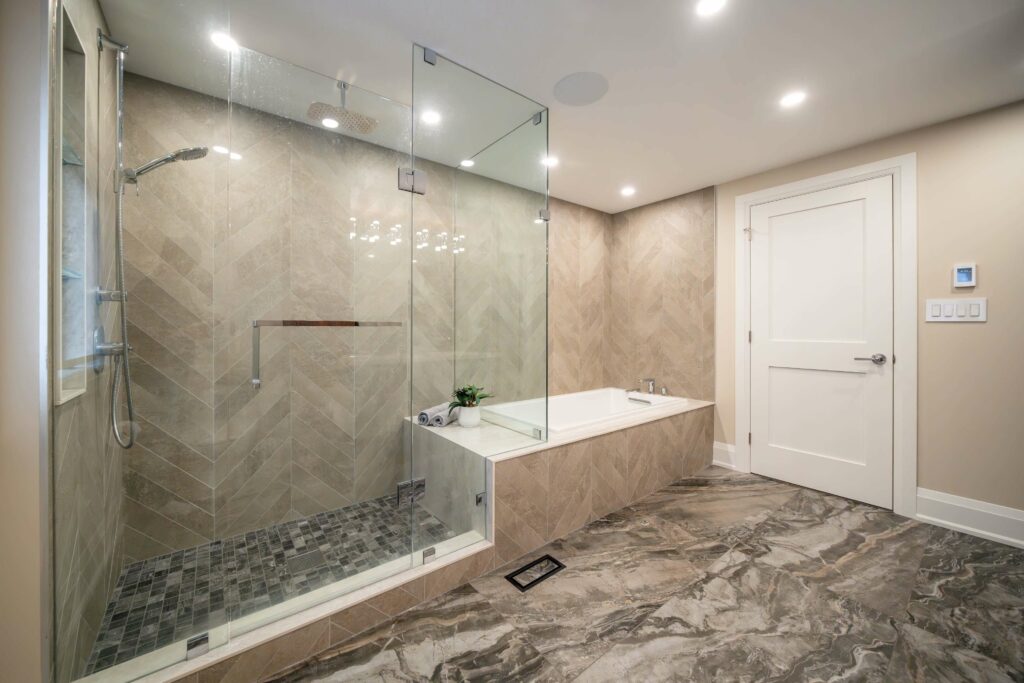 A large walk-in shower complete with a bench and a soaking tub guarantee hours of spa-like relaxation, while the well-lit vanity that features Taj Mahal porcelain tile by Canva Surfaces and a Richelieu pull-out storage system are certain to make getting ready a pleasure.
Want to see more of this stunning space? Watch this client success story on our YouTube channel. Their new space finally works–and looks– the way they wanted!Life is short. Renovate now! Contact Georgian Design Build to make your dream home a reality.