Stunning Brampton Main Floor Transformation Exceeds Expectations
Our recent clients' tiny, dated kitchen was anything but functional – or beautiful. They approached us looking for a way to open up the space and inject a bit of modern flair into their 1990s home. However, as we began to guide them through our signature Feasibility Study, these homeowners quickly realized just how much we could do to reimagine their floor plan and create the main living area they'd always wanted. The Feasibility Study helps homeowners by providing a detailed roadmap to their renovation, including building a budget, forming an estimate, and illustrating three different floor plan options to choose from.
A Dramatic Design Build Transformation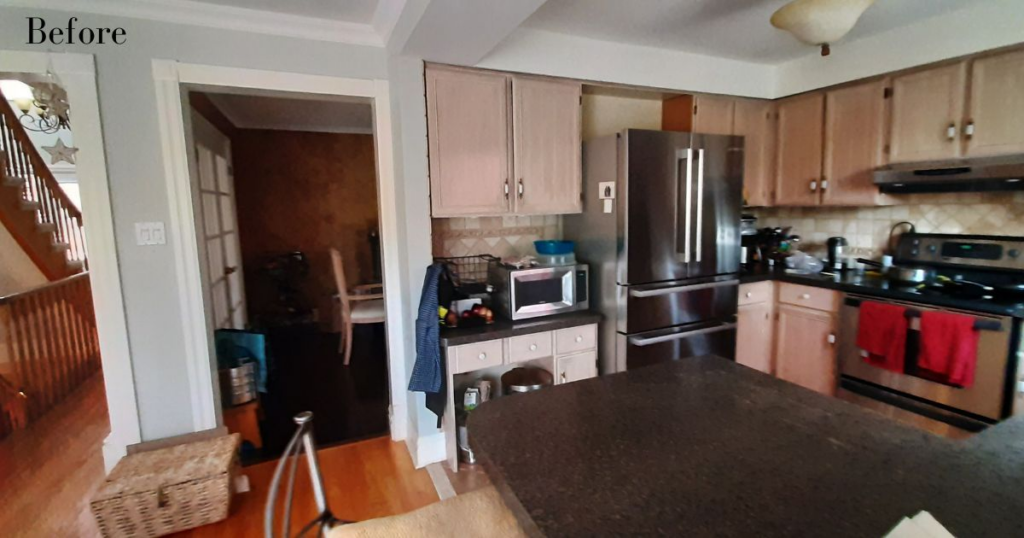 Once our clients were happy with the renovation plan, we began work by opening up the space and eliminating the formal dining room, which they rarely used. We then decided to flip the main floor layout so the expanded kitchen is now where the living room once was.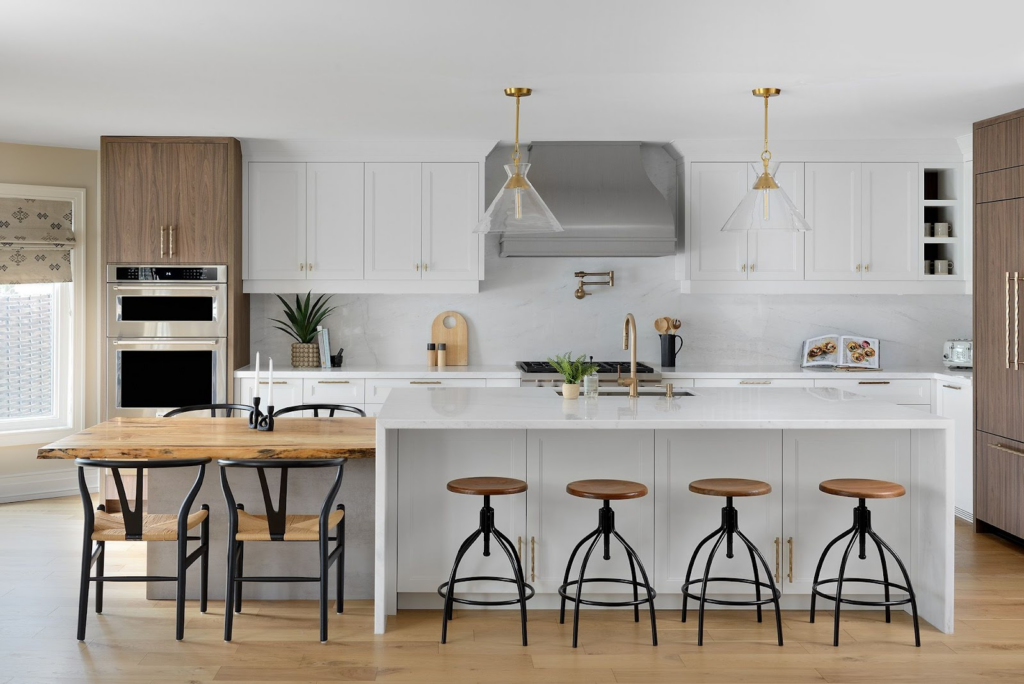 The crisp white of the cabinets, counters, and backsplash give the space a bright, classic look that blends beautifully with gold fixtures and warm wood tones. Walnut doors with branchlike handles open to reveal a refrigerator and a hidden pantry. Off the island, a live-edge peninsula made of reclaimed wood from a Canadian maple tree, provides plenty of seating for guests to gather as the home chef prepares the perfect meal.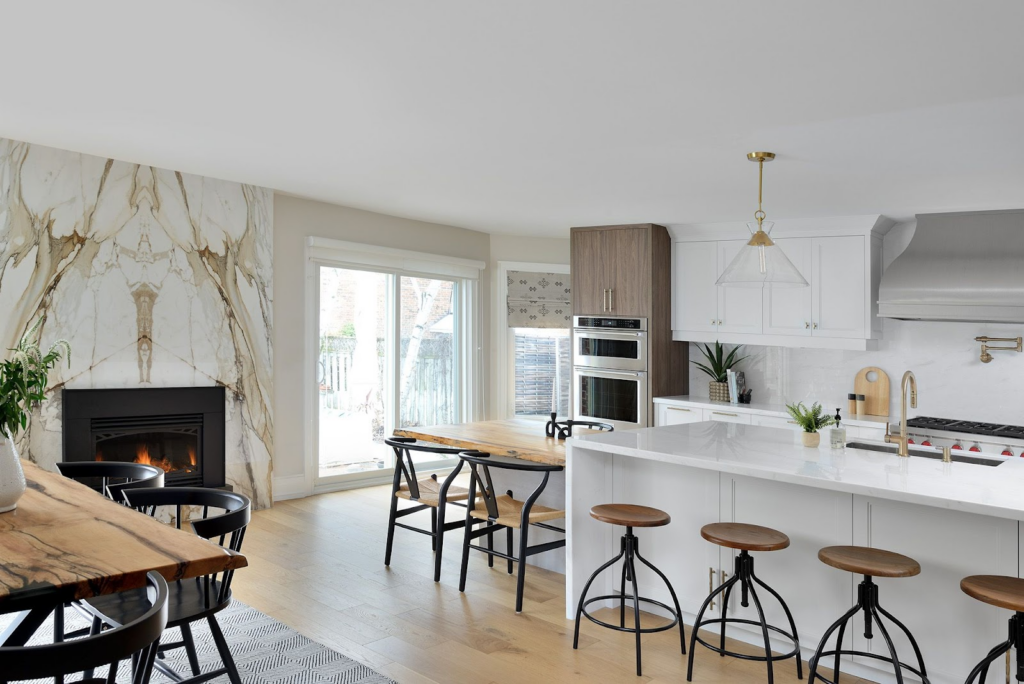 Off the kitchen, the open space flows into a stunning dining area where a floor-to-ceiling marble fireplace takes center stage. In front, an expansive, rustic table, made from the same Candaian maple tree as the kitchen peninsula, completes this inviting vignette.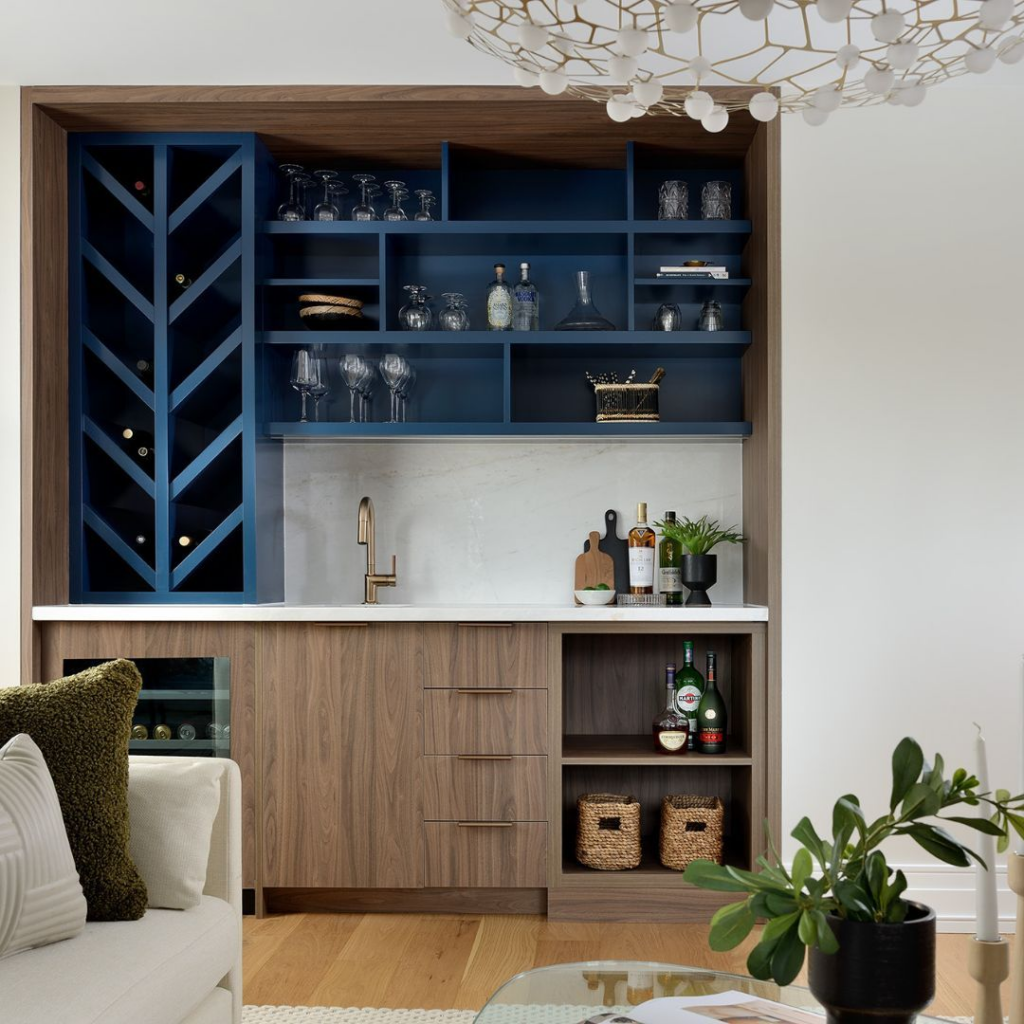 When the client told us that he had never had a bar in his home, but loved the idea of including one in the space, we knew exactly how we could incorporate that feature in the family room. Lower cabinets in the same walnut finish as the pantry doors provide ample storage, while a wine fridge and bright blue chevron shelving showcase an impressive collection of libations.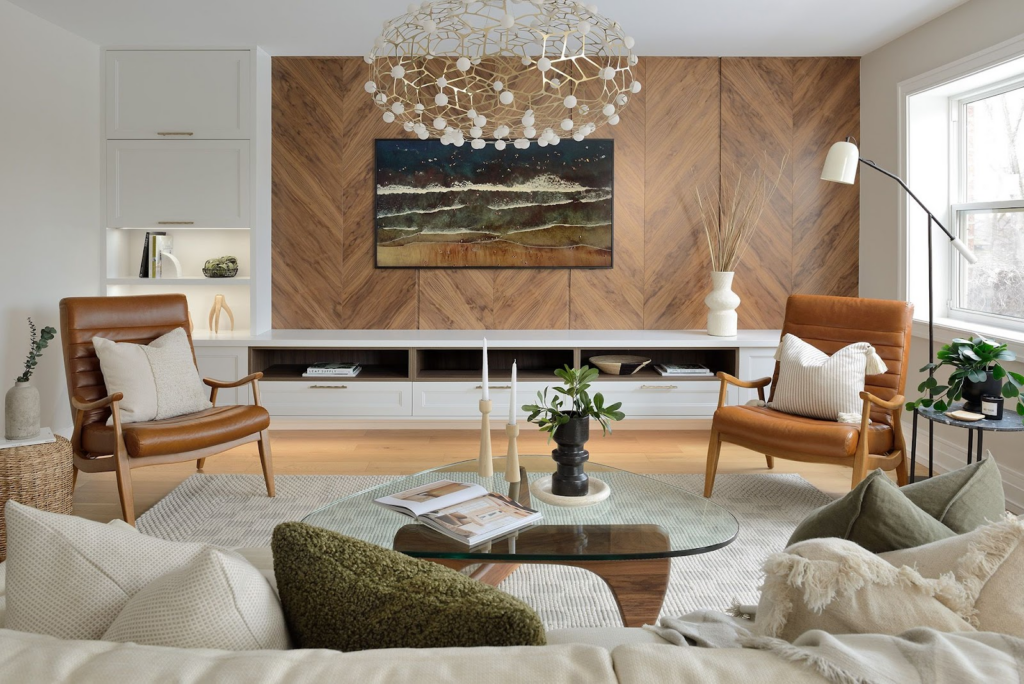 With drinks in hand, family and friends can unwind and enjoy good conversation in the living area that features a spectacular accent wall that echoes the shape of the wine shelves across the room. A combination of fabrics, leathers, woods, and metals blend into a cozy and inviting cohesion that was made for relaxation.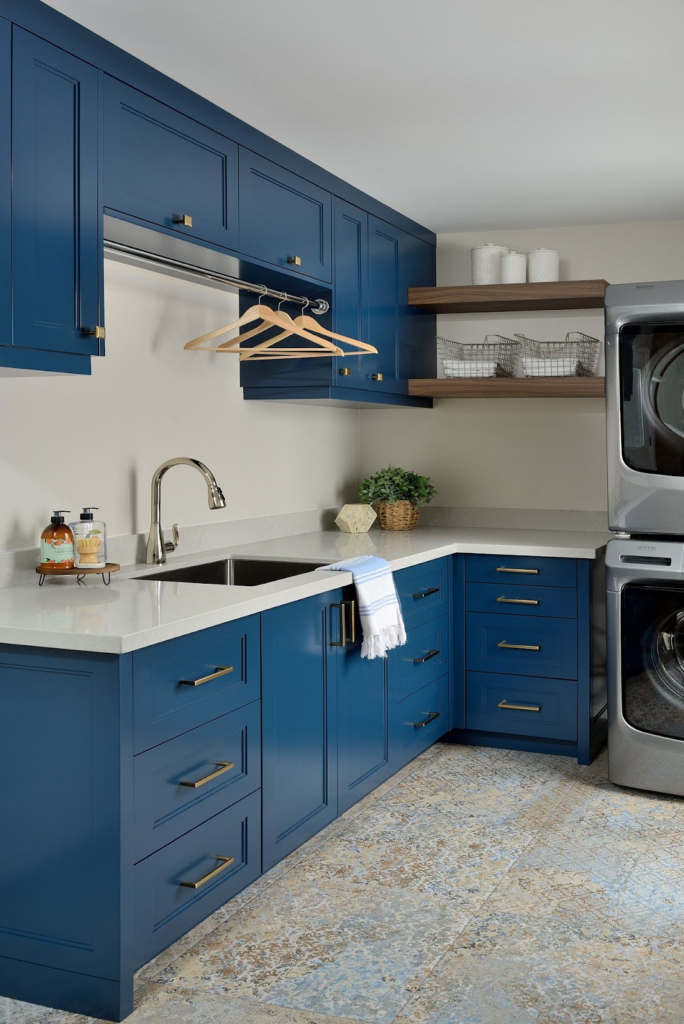 Finally, for a pop of color and whimsy, the new laundry room features Portuguese tin-glazed ceramic tiles that are sure to make our clients smile on laundry day. Bright blue cabinets allow for endless storage while a spacious counter is perfect for folding. A hanging rod was placed strategically over the sink for drying delicate garments. This room now offers form and function and is certain to make household chores more enjoyable.
Another Client Success Story
Watch this client testimonial video. The homeowners are absolutely thrilled with their new, open living space, and even more so with how the Georgian team helped them to get there with the help of a Fesibility Study. This service is exclusive to Georgian Design Build.
Are you ready to get the home you've always dreamed of? Contact us today to start planning together!