A Luxury Home Designer Spills Where to Save and Where to Splurge in a Bathroom Remodel
A full bathroom renovation isn't cheap, but you don't have to spend a fortune to get the most bang for your buck. With clever planning and savvy shopping, you can design a budget bathroom that looks (and feels) like it belongs in a luxury hotel. The trick is to follow a few simple design principles and understand where to save and where to splurge.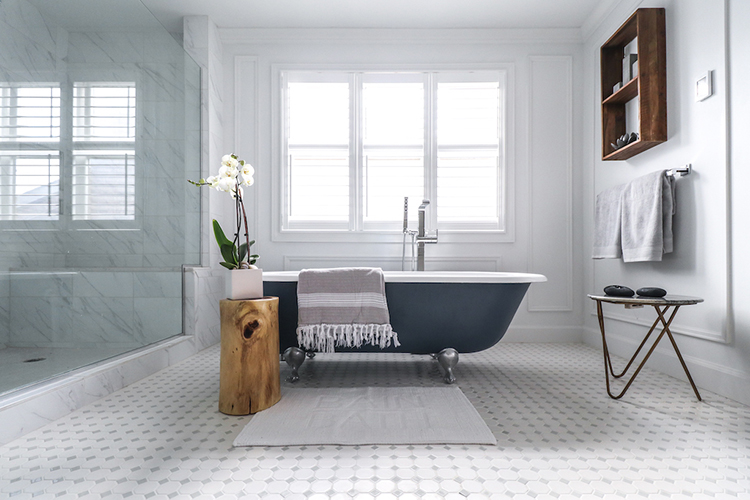 Photo: James Bombales
We sourced expert tips for designing a luxury bathroom for less at Improve Canada — the largest home improvement centre in Canada. Conveniently located two stop lights north of Toronto in Vaughan, Improve Canada offers a one-stop shopping experience for all of your renovation needs. There are over 350 showrooms under one roof (with 21+ in the bathroom category alone) where you can easily spend half a day sifting through everything from natural stone to faucets and cabinetry to get ideas for the bathroom of your dreams.
Located within Improve Canada, you'll find Georgian Renovations (showroom 108 and 97), a high-end renovation company with unparalleled craftsmanship. Here, Georgian's principal interior designer Michelle Mawby explains how you can achieve a high-end bathroom without blowing your entire budget.
Save by keeping your plumbing where it is: One of the easiest ways to save money on a bathroom remodel is to design around the current plumbing positioning. "But don't do that in lieu of a good layout and good space planning," says Mawby. If the shower, sink and toilet are awkwardly positioned, splurging on the finest features and finishes won't disguise that.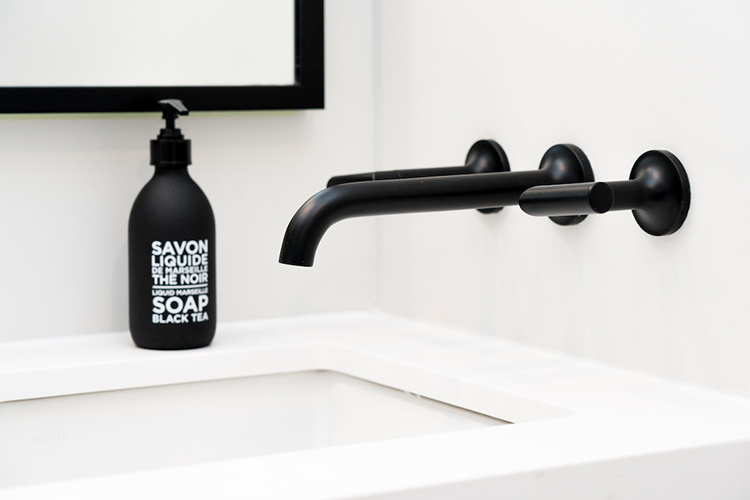 Photo: James Bombales
Splurge on your faucets and showerheads: Sure, you can purchase a faucet for $50 online, but saving money here will probably cost you in the long run. Remember, you're using this item multiple times a day and cheap faucets and showerheads tend to leak and loosen with time, finishes flake off, and the water pressure can be weak and unpredictable. How do you know if it's good quality? "It feels good in your hand," says Prea Harry, a sales and design specialist at Canaroma (bath and tile specialists located within Improve Canada at showroom 232 and 249). Look for pitting, waves or distortion in the finish. "You want to see a perfect mirror finish and 90-degree laser cut edges." You can visit the multiple showrooms at Improve Canada that specialize in faucets and showerheads to see and feel the quality for yourself. To ensure your visit is efficient, it's best to schedule appointments on Improve Canada's website in advance since these local businesses can sometimes be out on a service call.
Save on your toilet: There's no need to splurge on a fancy toilet. Think of it this way: Would you offer less on a house because the toilet didn't come with a built-in seat warmer? "That's one good place where you can save. I just finished a home where we put in a $7,000 toilet. But not everybody needs a toilet where the lid opens when you walk up to it and it plays music," says Mawby with a laugh.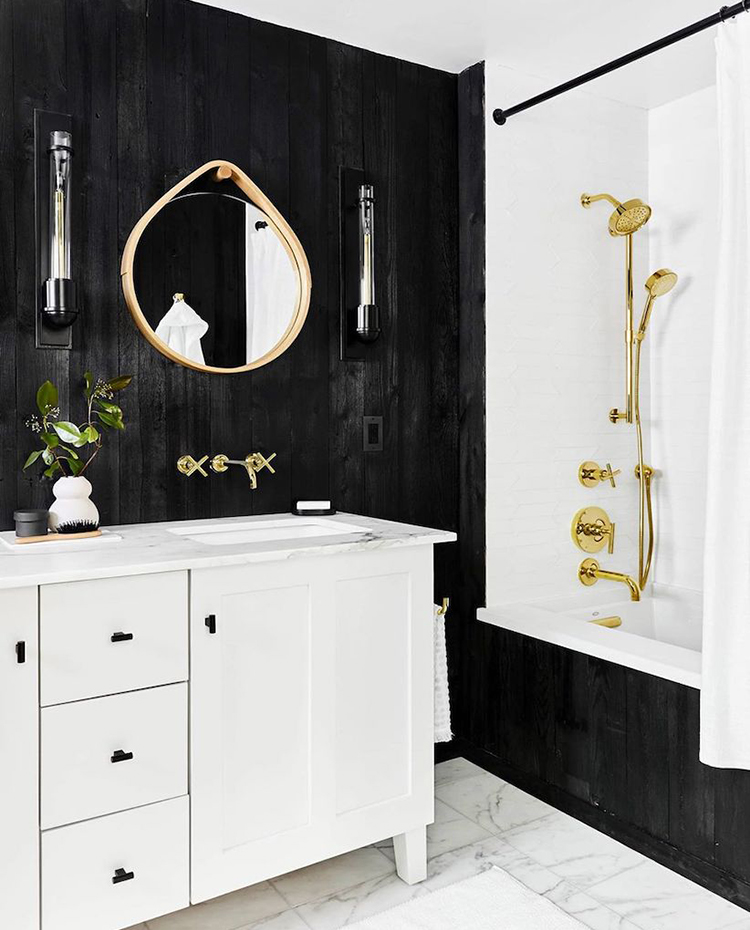 Photo: em_henderson/Instagram
Splurge on hardware: Mawby sees hardware as the jewellery in any room. "There are some amazing places for beautiful hardware. It's not cheap, but it definitely takes it to the next level." Mawby gravitates toward warm metals, interesting shapes, large scale, lucite and geodes. "We've got traditional, modern and everything in between," says Harry of Canaroma's hardware selection.
Save on a soaker tub: A large, freestanding soaker tub makes a luxurious statement in any bathroom. Fortunately, you don't have to empty your wallet to purchase an elegant design. "If you buy an acrylic bathtub, you could get one for $2,000 or even less," says Mawby. "If you're going with a composite material, you're looking at the $7,000 to $10,000 price range." This includes natural stone and even cast iron.
"Seventy percent of our clients want a modern, simple tub," says Mona Yazdi, the co-owner of Xiorex, kitchen and bathroom specialists located within Improve Canada (showroom 6). "But even if you want a bathtub that has a lot of character and is more traditional, it's not like before — you can still get them for under $2,000."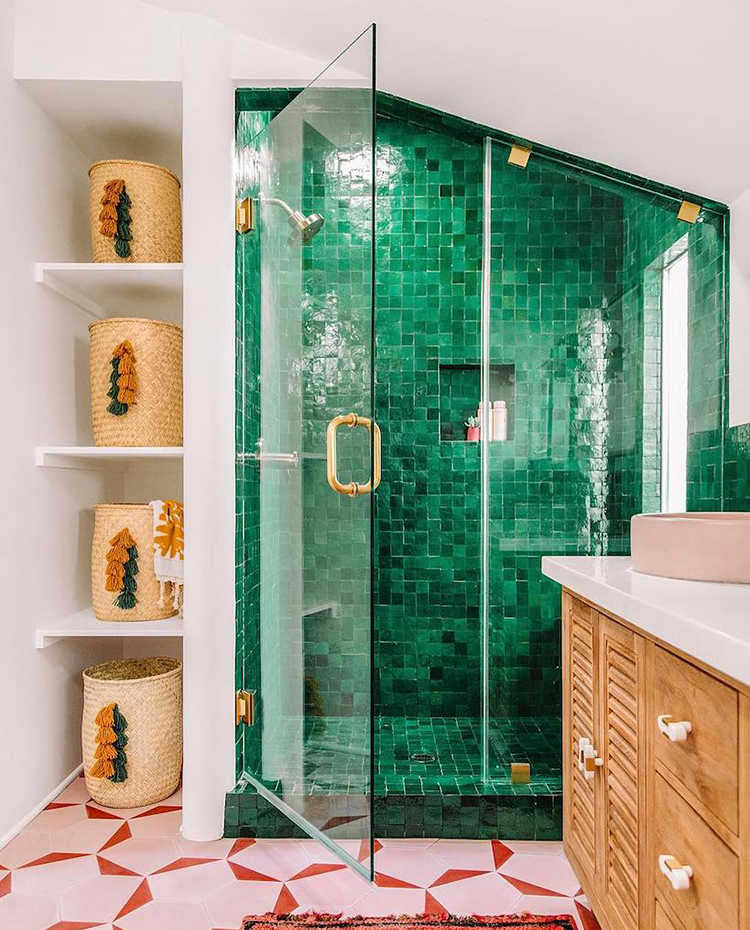 Photo: studiodiy/Instagram
Splurge on a luxury shower: The trend these days is to eliminate a tub altogether and instead invest in a roomy walk-in shower. "Tubs take up a lot of space. A lot of people that you speak to don't even have time to sit and take a bath anymore," says Harry. "When you eliminate the tub completely, not only have you given yourself more budget to put towards your nice shower, but you've given yourself a lot more space."
If the budget allows for it, frameless glass showers will make your bathroom feel extra sophisticated. "The typical showers with frames have a lot of metal and rubber," says Yazdi. "Frameless showers offer a completely different, clean look. It adds a lot of value and turns it into a luxury bathroom. It also involves less cleaning and gives the illusion of having a bigger space."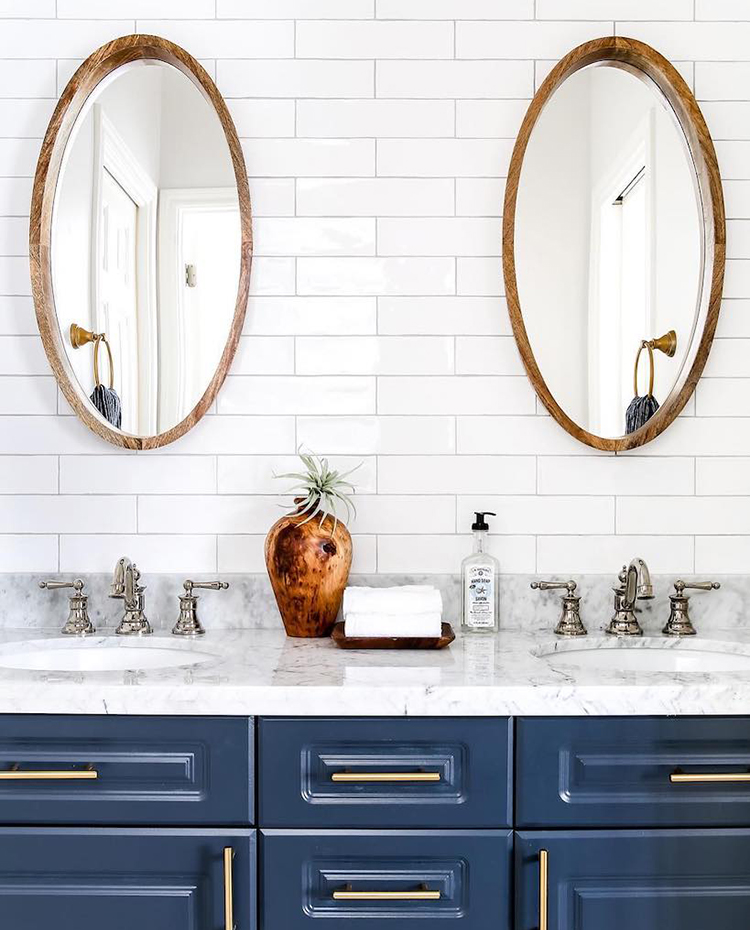 Photo: maisondepayx/Instagram
Save on tile and flooring: There are tons of economical tile options that will transform your walls into decorative eye candy. "Porcelain has come back in a big way in the last 10 years," says Mawby. "Printed porcelain that looks like stone can be anywhere from half to a quarter of the price of real stone and that can really save you money both on your countertops, floor and walls."
Alternatively, you can cut costs by splurging on a beautiful treatment in one specific area (think the vanity backsplash or one wall in the shower). "If you cut down on the amount of tile that you're installing, you can cut down on both material and labour costs, which can drastically reduce your budget," says Mawby.
Marble countertops are a luxury item that will cause your budget to escalate fast. Canaroma's team like to point their clients to alternatives that are not only more affordable but also much easier to maintain. "Marble takes crazy, crazy maintenance, it's almost impossible to keep up with it. Especially in the bathroom where there's so much moisture, humidity and changes in the temperature." Luckily, the faux-marble options are so convincing, you may have trouble seeing the difference when you visit the 21 tile and stone showrooms located within Improve Canada.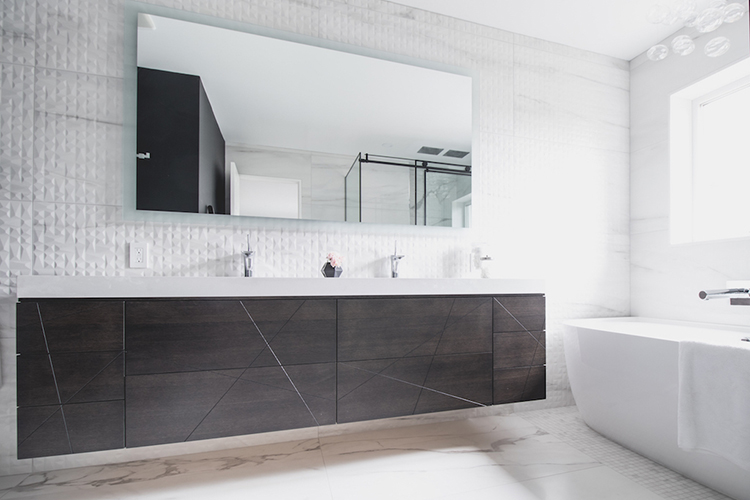 Photo: James Bombales
Splurge on the vanity: Don't skimp on the vanity cabinetry — you'll be opening and closing those drawers multiple times a day and need to ensure they can hold up to the moisture in your bathroom. "A lot of fixtures and products come from China these days," says Yazdi. "Sometimes clients want to go with the more affordable option but a lot of times they take it home and after a while, they see it's peeling, expanding or getting warped."
Custom cabinetry also adds a wow factor, with smart storage and design that can tie the whole bathroom together. "Right now we're adding cabinetry that looks like furniture — we're adding in metal details, decorative lucite legs, really beautiful hardware," says Mawby. "It also lets us really customize drawers and cupboards for optimum storage."
You'll find a wide selection of custom cabinetry makers at Improve. Along with checking out the showrooms in the bathroom category, many of the showrooms within the kitchen category do fantastic custom work for bathrooms as well. At Xiorex, Yazdi mostly uses high quality Italian boards and does custom work in their local, family-run manufacturing facility. "I believe going custom is always better than getting imported goods — especially from China," says Yazdi.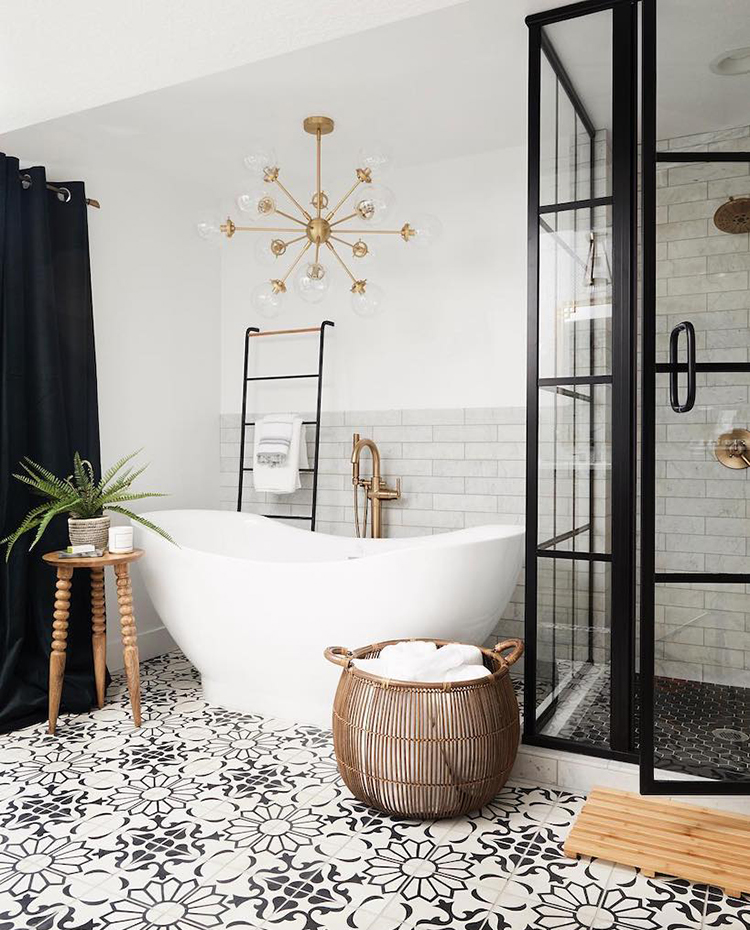 Photo: andreawestdesign/Instagram
Splurge on lighting: Good lighting is essential in a bathroom and splurging a little here will go a long way. "I will rarely go to the bathroom section in a lighting store to pick my bathroom lights," says Mawby. "We're putting in gorgeous chandeliers and pendants and wall sconces." With 13 showrooms in the lighting category alone, you won't have to stop by the bathroom accessory section of a hardware store ever again.
Bathroom renovations almost always offer a high return on investment. "If you want to sell your house, the most important part of the home is the kitchen and bathroom," says Yazdi. If you're about to embark on your own bathroom remodel, you can shop every item on this list in one place at Improve Canada. Start by visiting the online directory to make appointments to chat with any of the 350 showrooms there.