Countertop Trends for 2017
A countertop is the ideal blank canvas – it is a backdrop for all your kitchen essentials that visually ties everything together. Aside from maintaining beauty, it is a space that should keep up with your lifestyle whether you are cooking, entertaining, dining or creating. We broke down some countertop trends that we are loving so it can hopefully spark some ideas for your next kitchen renovation.
Calacatta marble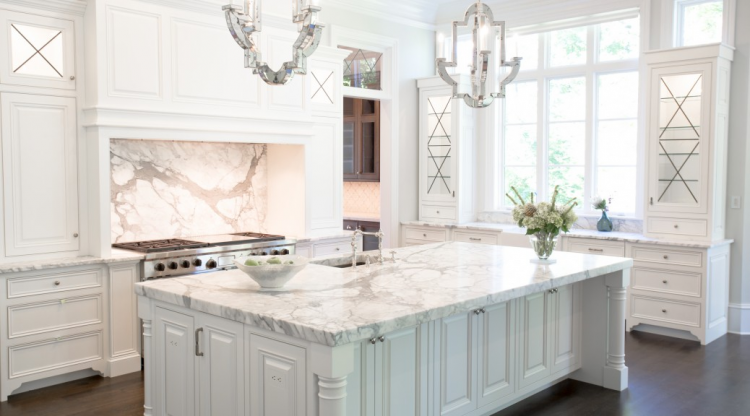 With the increasing demand for natural stone in the marketplace, our favorite is highly covetable. When one thinks of marble, Calacatta is the one that usually comes to mind. Characterized by a whiter velvety base with bolder more dramatic veining versus its slightly subtle sister, Carrara marble. Its iconic look is the perfect statement for a classic, timeless kitchen. Marble has always been in style but this year, we're seeing countertop slabs that are cut extra thick – at least three inches. The best quality marble is sourced from certified Italian marble quarries and should be maintained yearly.

Quartzite
Quartzite is an increasingly popular choice among homeowners and interior designers. Its sophisticated good looks combined with crystalline sparkle, durability, earth-toned colors and stylish appearance make it a top trend contender. Not to be confused with Quartz, a man-made material created by crushing stone, pigment, and resin together. Quartzite is a naturally occurring rock that is strong and very durable. One of the main benefits of quartzite is that many of the varieties have a similar look to marble, but require much less maintenance.
Butcher Block
Butcher block is the countertop for those at-home chefs who invest in their kitchen environment just as much as the ingredients. Warm and accommodating, butcher block will reward you with beautifully aged wood if maintained. Of course, cutting right on your countertop is not recommended so why not have a butcher block built right into it? Customize a section of your countertop material so that it fits the size of butcher block wood so you can keep the cooking workflow going.The contrast of the wood will look extra charming with your existing countertop material.
Waterfall Countertops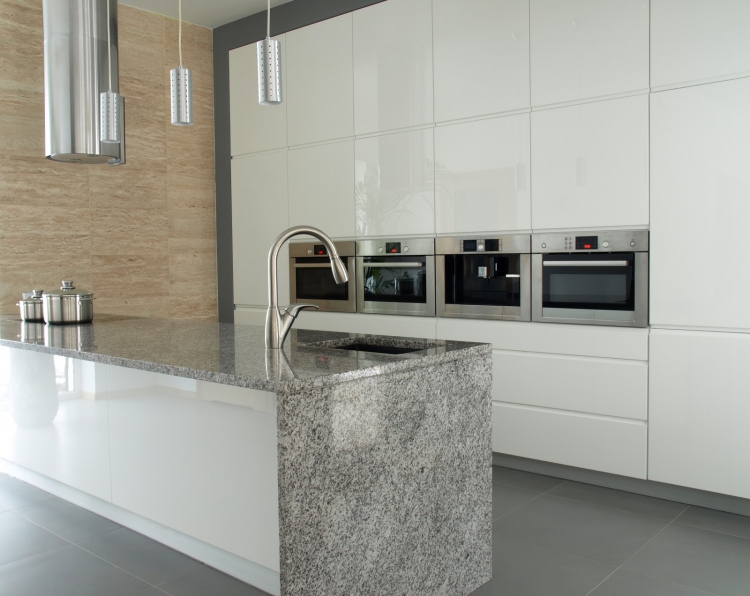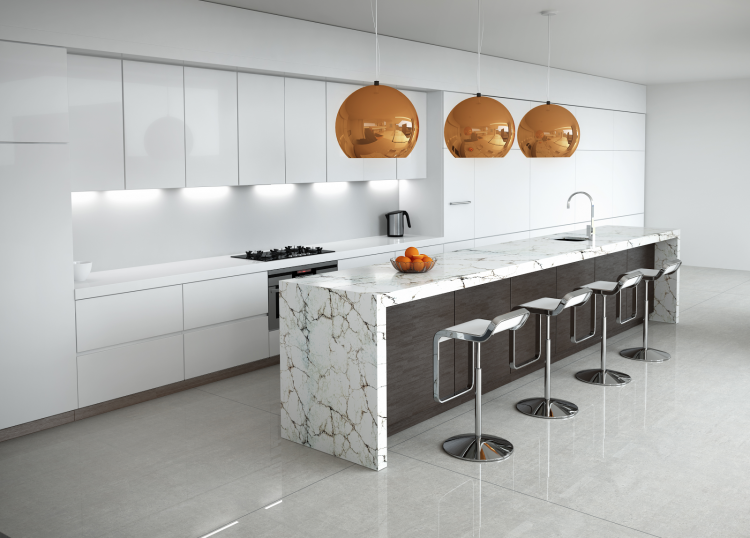 Waterfall countertops look just like how they sound – a waterfall. In a cook space, a waterfall countertop can be a stunning focal point, linking your countertop to floor design in one eye movement. This modern trend is being integrated into a variety of kitchen styles these days. It adds a sleek, minimal look to any kitchen design while helping to hide appliances and protect wood cabinets. If you've decided on a luxurious marble or quartzite, why not show it off with a waterfall countertop.

Two-Tiered Island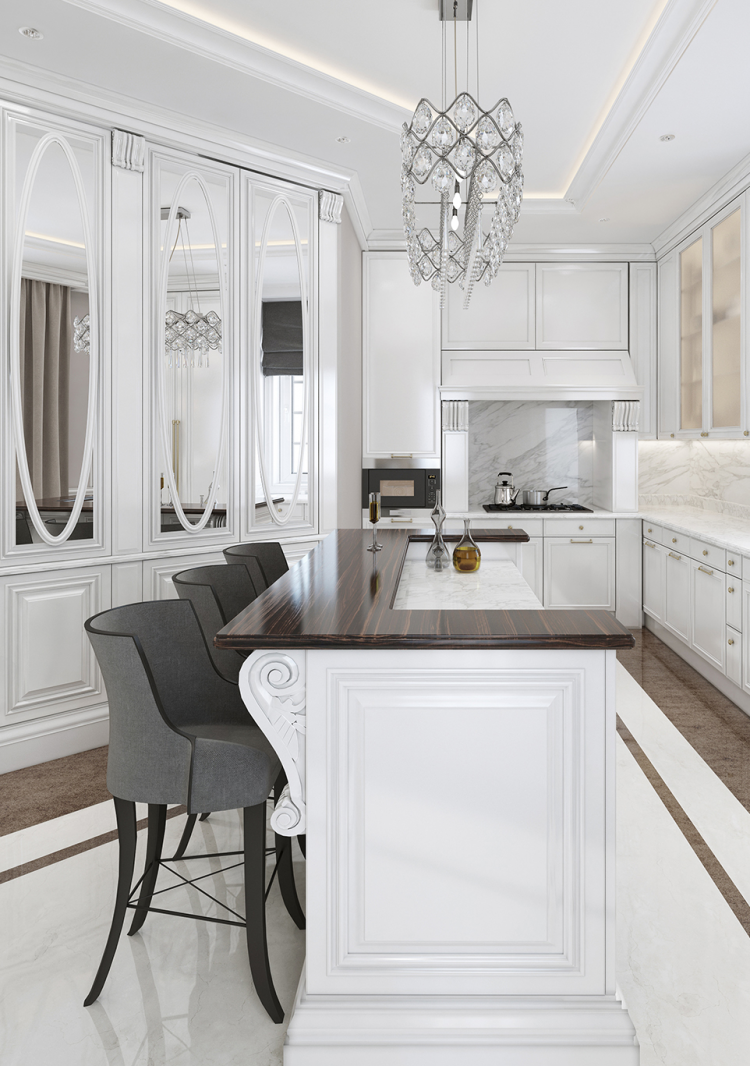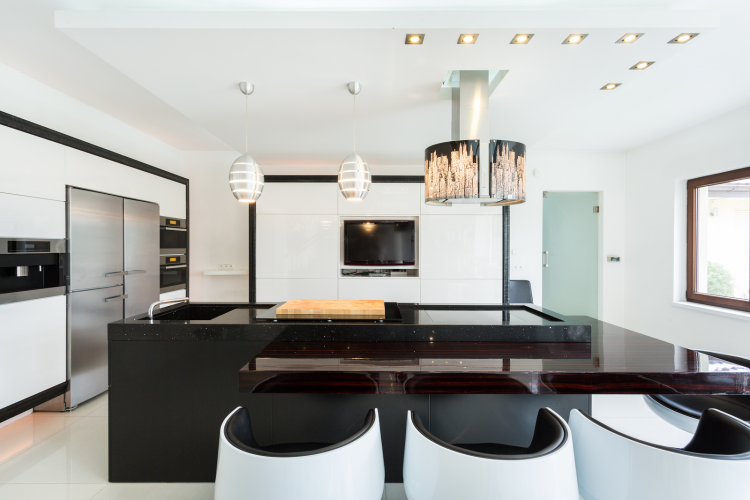 An island built for two. Islands are a central part of a kitchen where most people gravitate towards. It should be a multi-function area where organization and pleasure meet. An island with two countertop heights can give dimension and visual interest to an otherwise flat countertop. It can easily accommodate households who love to mix things up a bit. The lower section can be for meal prep and the higher section for eating and entertaining. It's perfect layout for a truly elevated experience.