2017's Biggest Bathroom Trends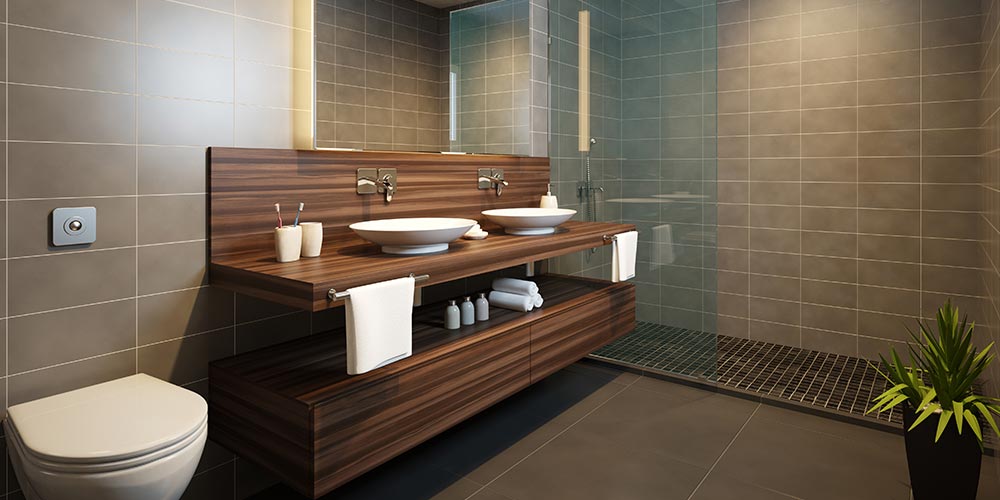 As 2016 comes to a close, there are plenty of trends that will become more prevalent as the new year gets rolling. When it comes to bathrooms,  there is so much variation in size, location and main use that there are many treatments that work in different kinds of bathrooms. It's important to keep the look of the rest of your home in mind so you can ensure that your bathroom fits into the "flow", so be sure to make considerations for that in the planning stages. Whether it's an ensuite or a powder room, there is plenty for bathrooms to take on new shapes in 2017.
Trough Or Double Sinks
In shared ensuites, maneuvering around using one sink in the morning can be tricky. There are ensuites built with double sinks to address the issue. Also popping up in bathrooms now are trough sinks. These are essentially extra long sinks that are able to serve more than one person at a time. While they were popular in the 80s, they're back in 2017 in much more modern ways.
Shower Seats
This is something straight from a spa, since showers are usually designed to be used in a standing position. The shower seat, particular in an oversized shower, gives any bathroom space a spa-like quality. Built-in benches can be installed that go with the shower's interior material. This kind of detail takes your regular shower to a sauna in no time.
Square Fixtures
Most standard bathroom fixtures fixtures are round or otherwise curvy, but clean, angular lines give any bathroom space a spa retreat appeal. Going geometric in master ensuites and powder rooms is about more than just shower heads, it's about tying together elements of modern minimalism down to all the fine details.
Freestanding Tubs
Standalone tubs have been popular for a few years now, and they show no signs of stopping in 2017. As more walk-in and oversized showers are popping up, bathroom layouts are including freestanding soaking tubs in the mix more and more. When doing a custom renovation, you'll get much more flexibility in terms of layout and placement.
Open Shelves & Vanity
Bathrooms in 2017 will not shy away from ditching the contemporary cabinet looks and opt for more creative open shelving. As much as the products you use as for function, they can also serve as form as well. Open shelving can include linens, toiletries, makeup and so much more. No only will they be easier for you to access on a day to day basis, but it can also be a good way to ensure you avoid clutter; only keeping the most essential items for display on the shelf storage. We think you should still keep some form of traditional hidden storage though, for less visually pleasing items like cleaning products.
Heated Floors
A definite takeaway from spas and retreats, electric heated floors and do much to solve the age-old problem of stepping out of a warm bath or shower onto cold bathroom floors. Not only does it maximize comfort, but it can also increase safety as the heated floors will help dry up moisture and humidity much quicker after use.
Shower Lighting
While we most often rely on regular bathroom light to illuminate our showers, the trend of putting small lights directly in your shower have been popping up over the last few months. While you might not put a huge chandelier in there, overhead pot lights should definitely do the trick.