Why We Should Revisit Peach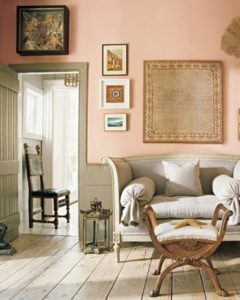 Every once in awhile, there are colours that fall in and out of popularity and use when it comes to interior design. Trends come, go and come back again over the years and while there are plenty of timeless shades that stand the test of times there are some that swing in and out of use and peach is one of them. Here are just a few reasons we should give Peach another try.
It Works With Grey
Grey is the interior colour du jour, and peach pairs exceptionally well with it almost regardless of what shade it is. Thanks to its warm undertones, it provides a perfect balance to grey's much cooler neutral tones. This creates a look that is equal parts cool and warm for a perfect balanced space. It's the perfect accent shade for an otherwise monochromatic space or one that relies on grey, black and white primarily. Grey provides the perfect backdrop for peach accessories, accents, furniture, lighting and so much more.
It's Lik
It Warms Up A Room
Peach is a great way to add some warmth to a space without being too overwhelming or dominating the entire room. For smaller spaces or ones that don't get all the best sunlight, it is a great way to bring more bold brightness to the space in a subtle way. In the same ways that a red or orange shade would do wonders to create warmth in a space, peach can do the same thing without being as visually overwhelming as those first shades can sometimes be. This is perfect for spare bedrooms and living spaces.
Works Well In Kid's Rooms – But Can Grow With Them
This is a great option for a child's room that makes a bold and bright statement. When paired with opposite shades like pale blue, it creates a look that's clean & airy. While it's a great shade for these spaces, it's also a colour that can grow with the space. Kids tend to outgrow colours like candy pink and lilac purples but peach is the happy medium that is versatile enough to still work in the space as they age. Alongside accent colours like white, black and metallics like gold, it's a shade that can "grow up" with them, instead of having to do a complete colour overhaul later on.
It Works Well With Tons Of Other Colours
Peach works well with a whole host of other shades and colours, especially other sorbet-esque, bold pastel shades like mint green and light blue. All colours along this same line can all create a cohesive look in a space. Think about using these shades in otherwise sunny and bright rooms to keep it light and airy. It also works with bolder and more vibrant shades, providing a good accent for these colours in nearly any room.