Fall Home Design Trends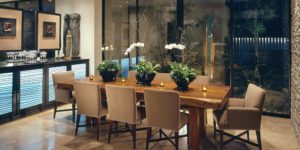 As we head into the last few months of the year, the fall season is already in full swing. With the change of seasons can sometimes come a change in decor, as the new season signifies a chance to start over for many in different facets of life. The fall can be a great time to make small changes or large overhauls to your interior look. Here are just a few fall trends that are perfect for you to try as the seasons grows a little colder.
Think Warm
Of course,  heading into fall and winter means you should be thinking of ways to warm up the space. Think about warm tones, plenty of texture and a laid back vibe in the room.  In some ways, harken back to elements of the comforts of the home you grew up in – even if the full style might not all the way fit with your current aesthetic. Retro and global pieces can do plenty to make a space much more comfortable than before, so couple that with deep tones, bold patterns as well as more neutral tones.
Play With Patterns
Move over stripes, there are tons of pattern possibilities that you can use in any room of your home. From geometric shapes to natural motifs like florals and other plants and minerals to ones with a global edge, there's plenty of choices for everything from wall coverings to textiles. Look to patterns like marble, but move it beyond the stone incarnation is comes from. It's a dramatic and interesting look when used on fabric and even paper.
Metallic Mixes
Just because a space has a particular metallic shade in use that doesn't mean that's the one you have to stick with. Think of ways you can blend tones like rose gold, copper and chrome together in the same space. But don't overdo it! The key to this is subtlety so  think about that when putting the look together. This is perfect for kitchens where certain appliances will usually have a chrome finish but still work alongside different metals.
Colours Galore
There are plenty of colours that are coming into play for homeowners; much of which act as a bridge between feminine and masculine looks. Think blues or all types, including teal and other bold shades. Cool greys are also here to stay, as are dusty pastel shades like pinks and sky blues. Muted versions of bold colours are also a big deal, with shades like turquoise, yellows and oranges, coral and ivory coming in heavy for the fall months.
A Touch Of Drama
Every room needs a touch of drama, glam and luxe and fall is the perfect time! As much as modern lighting has become standard, this fall is set to make the "return of the chandelier", with beautiful eye-catching pendant lighting that's more statement art piece than just lights. Along with a modern look, straight and clean lines have become more and more commonplace but this fall could bring curves back to the forefront in more ways than one! Think about furnishings with a much curvier silhouette, soft turns and rounded edges.