Fall's Upcoming Bathroom Trends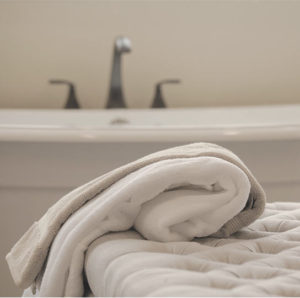 Bathrooms are always an important part of  interior design and it's important for them to flow into the other spaces in your home in a seamless way. With as many new trends as there are for living rooms and kitchens, it only makes sense for the remainder of the year to come with their own new looks for bathroom and ensuite spaces as well. Here are just a few of fall's upcoming bathroom trends.
Faux Wood FLoors
Wood flooring in a bathroom is usually bad news since it can easily become water damaged in a room that is for the most part always moist. Still, the look of wood is still an alluring one so there are ways to create the look of wood with other more appropriate materials like porcelain. Laid out in a particular way, tiles with similar lines and grooves can create the look you're going for.
Integrated Lights
Lighting is about so much more than chandeliers and sconces. Think about lighting that's built in to the things you use on a daily basis like mirrors with vanity lighting. This creates a much more streamlined look and feel to the bathroom space, removing the visual clutter that can sometimes come from chunky light fixtures.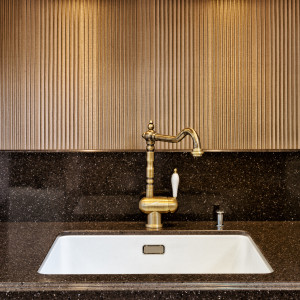 Think Big
Gone are the days when you have to settle for the standard sized sink basin to use. Consider getting a much larger size to not only accommodate a potentially larger bathroom, but also to prevent things like water from splashing onto the floor.
Go Bold
You don't have to go with standard clear glass shower doors, you can always think a bit bolder with options like steel to add visual interest. Think about making the door's frame the same as the windows in the space to make everything appear much more cohesive.
Panelling
Adding classic wall panels can actually do much to add the look of luxe to your bathroom space. This coupled with crown moulding will take any bathroom to the next level.
Wooden Ceilings
Unlike floors, wood ceilings in bathrooms works since it's less susceptible to the kind of water damage that wooden flooring would be. Add some rustic character to your bathroom  by adding a few planks and panels of reclaimed wood.
Fancy Windows
Bathrooms are great places to add as much natural light as you can without making it easy to see inside! For tons of visual interest, think about adding a window on top of a show wall or inside a standing shower. You might also consider adding a skylight in there for a much more luxurious feel.
Storage
Bathrooms are just as much about function as it is about form, and storage is important. Add more storage by thinking upward – adding cabinets, books and shelves all the way up the wall until you reach the ceiling. It's important to make the most of any space, and the bathroom is no different.
 Go Brass
The bathroom default might usually be chrome, but fall will see a shift towards warmer metals like brass. It's a shade that works in nearly any type of colour scheme, adding a brand new spin in your bathroom space.