2017 Trends To Pay Attention To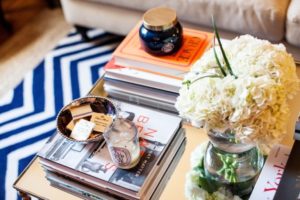 It's never too early to start thinking about the next year in trends, considering how quickly they can change. Not every homeowner needs to follow every trends, but it's important to know what is currently in style so your home doesn't look outdated.
Plants & Flowers
Florals have been trending for quite some time in terms of interiors but just in different variations each time. Currently, large and bold prints work for nearly every room in the home, where smaller prints might read much more traditionally. Whether it's wall treatments or textile prints, these patterns can work in living spaces, bedrooms, restrooms, kitchens and so much more. Depending on the look you're going for, you can even try for wall art instead of covering a whole wall in a repeating print. This also translates to tangible items, with living spaces looking more and more like indoor gardens with the inclusion of so much greenery and flowers.  Don't hesitate to bring the outdoors inside with you in this way.
Blue & White
Blue and white has always been a popular combination and it now takes its inspiration from similarly coloured porcelain pieces that work surprisingly well in traditional, contemporary as well as modern spaces. In living spaces, white is generally the dominant colour while blue acts as the accent shade, while you could try the reverse combinations in rooms like bedrooms and even bathrooms.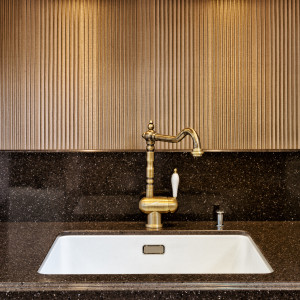 Gold
Rose Gold has been having a moment these last few years, as has copper and using them together alongside other metallics; but 2017 will see the return of traditional yellow gold. Whether in the form of accessories, accents or textiles, gold is making a comeback to interior spaces of all kinds. In bathrooms, swap your typical chrome fixtures for a warmer gold hue, and think of gold accent tones to go with either muted neutral tones or bold shades in living rooms. In kitchens, off-set a black and white motif with gold accents and accessories.
Elevated Organics
Natural-looking materials like linen, basket weaving, leathers or different types of wood don't always have to look rustic. These materials can still say "luxury" depending on the colours they come in. For 2017, think neutral shades like white, beige and natural wood tones, grey and black to keep everything cohesive. Go for quality textiles that have a rich, luxe look and feel just as much as it looks and feels organic.
Hexagon Tiles
Tiles really never go anywhere in terms of trends and style, but the shapes definitely change every now and again. Instead of standard square or even diagonally turned "diamond" shapes, try hexagonal tiles for a luxe look. This works especially well when the tiles are in different colours, like perhaps black and white, so you can truly see the shape through the contrasting colours of the tiles. These tiles are ideal for bathrooms to elevate the look to that of a luxury hotel.