How To Bring The Outdoors Into Your Kitchen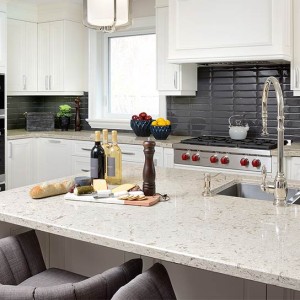 Not everyone is fortunate enough to live in a climate that's warm for most of or all of the year, making an outdoor kitchen a little less practical than if you did. As great as it can be to prepare meals in the great outdoors, it's important for homeowners to do what makes the most sense for their space. Just because you don't have your kitchen physically outside your home, that doesn't mean that you can't bring elements of the outdoors into your space with you. Here are just a few ways you can bring the outdoors into your kitchen.
Location
Obviously, the best way to create a more outdoor feel and appeal in your indoor kitchen space is to let in as much natural light as you possibly can. Consider the position of your window and the direction it's facing in when doing a full-scale remodel or custom build so you maximize the daylight that pours in. South-facing kitchens get the most sunlight, but this also means you get the most heat during the hottest times of the day so be aware of that.
Let The Light In
If moving the direction of the kitchen is not a possibility, there are other ways you can let just a little more light into your space. You can open up the floor of light by adding glass doors where there may have previously been walls or more closed off wooden doors in its place before. Also, opt for as many windows as you can even if that means you lose a little bit of storage space. You shouldn't switch all of your wall cabinets to windows, but as many as you can stand to lose – do it. You can always install shelving or a pantry to areas of the room that windows can't be placed anyway.

Sky Lights
Another great option is skylights, and they're a great way to make up for the lack of natural light if your kitchen happens to be facing the "wrong" way. It's important to make sure this isn't your only source of light in the kitchen space, so there should still be adequate lighting in the room for when night falls.
Colours
Using various colours that are usually associated with the outdoors is yet another way you can bring it right into your space. Try sky blues, lush greens and bright, sunny yellows to complete the look and make the space feel just a bit more outdoors-y.
Greenery
One great element for bringing more of the outside into your kitchen is with plants. You might have a healthy garden outside, but there's no reason you can't have a selection of shrubs, flowers and even herbs and vegetables right there inside your kitchen. There are plenty of ways to situate them around the space, from traditional pots and vases to wall-mounted or hanging gardens. Think about your favourite houseplants, flowers and other greenery you would want close by in your kitchen and starting adding them into your space.