Working With Tall Walls & High Ceilings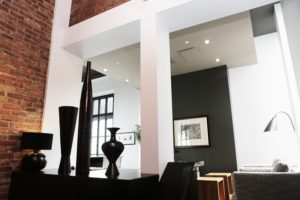 High ceilings and the tall walls that come with it are an important in many homes, whether it's throughout the whole home or just in large, open spaces like a foyer or living room. As grandiose as they can be, it can become a bit tricky when it comes time to decorate the space considering how much space you have to cover. It will be important to consider the perspective and lines of sight over the scale of the whole wall, so you can decide what goes where since you definitely can't leave such a large, empty space. Here are just a few tips on deal with high ceilings and decorating the tall walls underneath them.
Hang Vertical Art
Most people tend to gravitate towards more horizontal artwork, but tall walls are the perfect chance to think more vertically. One, bold tall piece of art – or a grouping of them if the space is also wide, is one of the best ways to use up the whole area. You can also mix up the sizes to break it all up visually and make the space seem just a little bit cozier.
Go Bold
Think  right and bold colours when you're thinking of ways to cover the taller walls, particularly when choosing the art you want to put there. This will immediately draw the eyes upward and make the walls feel much more a part of the space. This will also lend itself a more intimate feel in the space, as high ceilings have the tendency to get a little bit sterile and impersonal if the space isn't handled correctly.
You can use wooden trim to add visual and architectural interest to a tall wall, taking it from bland to having artwork infused right into it. Consider the type of wood that is in the rest of the space and go from there with it. With something as highly textured as wood, you don't need any extra accoutrements to take it to the next level, as it's already giving the space a three-dimensional twist.
Add Stone
Adding stone to the space gives the same effect as wood in terms of it being highly textures, adding a rustic edge and creating a "feature wall" that doesn't need much adornment after that. Try to go as rugged as possible, especially if the rest of the space is very streamlined. This will likely end up being the focal point of the space, so find small ways to add artwork even though you don't really have to. If some parts of the stone jut out much farther than others, think about using these small ledges for tea lights to create ambience in the room.
Shelves
Since you have all that vertical space, you might as well use it for storage! You can use shelves to cut across the height of the wall not only to add some visual interest on the otherwise flat space, but as a place to hold and display items you might not have another place for.