Decorating The Perfect Great Room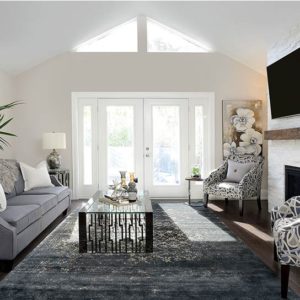 In most modern homes with their open concept living and dining rooms, we find great rooms – spaces that combine elements of these two other rooms. Creating a good flow between the two spaces can be tricky sometimes, as you want to create cohesion but slight separation at the exact same time. It's important to find this balance in the space before you begin any renovating or decorating, and generally that tends to be in the colour scheme; but there are also other ways.
Textured Ceilings
Most great rooms now come with soaring ceilings that can sometimes feel impersonal, though very open and bringing and airy feel into the space. You can make things a bit more intimate by doing something as simple as decorative molding. Think of ceiling trim and beams that create a grid across the ceiling for an interesting look.
Colour
When you're choosing a colour for such a high traffic area, it can be a little bit difficult since it's so much space to fill. Dark colours can make a space feel smaller while highly saturated ones can come across as a bit too bold. Try shades like lavender, soft greens and blue-gray tones to add just enough colour to add some personality without taking over the whole room.
Architecture
Great rooms is the perfect chance to play around a bit with architecture so don't shy away from including features like arched doorways to enter and exit the space. It's something that softens the look of the space, and makes it much more modern, so keep that in mind once you start to decorate.
Floating Furniture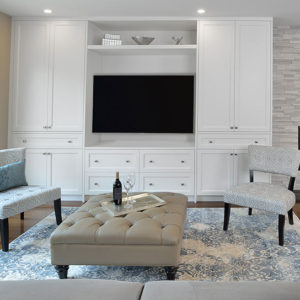 One of the biggest mistakes homeowners make when they're adding furniture to their great rooms is placing them fully pushed up against the walls, leaving the middle area completely open. If the space is large enough, think about a "floating" floor plan, where your furniture is pulled up and away from the walls and placed around a particular central point, like a fireplace.
Area Rugs
Area rugs are a great way to pull the look of your great room together, and there is a very wide variety of colours, styles and sizes to choose from so you can choose an option that doesn't overwhelm the space. To simplify things, remember that 8 x 10-foot and 10 x 12-foot sizes are generally best for large spaces. You could  put multiple smaller mats together for a custom look.
Pulling It All Together
Great rooms by definition have an open concept floorplan, so it's imperative that any living, dining and cooking space flow seamlessly into each other aesthetically. Try continuing a grey and purple colour scheme into an adjacent, for example, by including grey cabinets, grey tile and purple accents