Using Purple To Make A Statement In Your Home
Closely associated with royalty, purple is a regal shade that works in many rooms of the home in a variety of shades. Depending on where and how you're looking to use it, there's no reason the hue can't work anywhere in your home you decide, but it's important to be aware of the perfect  shade of purple to use after a home renovation.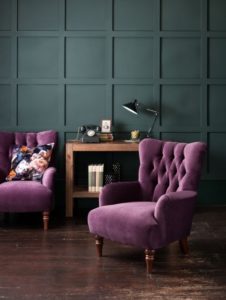 Purple has long been a staple in bedrooms, but there's definitely room for its use to expand to other areas of the home as well. Currently enjoying somewhat of a resurgence as an accent colour, purple has always lingered close by as a colour that was on-trend in both interior design as well as fashion. Whether it's lilac, violet or deeper wine-tinged hues, purple is set to come back in a big way in interior design.
Far from a safe colour, using purple in your space speaks to the fearlessness of the homeowner – willing to move outside the scope of neutral shades to give their space a whole new look. Speaking of neutrals, purple is actually a lot more versatile than one would think; much in the way that we've come to think about neutrals like grey and beige; or even white. This is dependant completely on the shade of purple you use based on the room you're hoping to use it in. This shade can create the perfect balance of sophistication and playfulness in almost any room.
Used extensively in youthful bedrooms, it's easy to give purple a much more grown up twist by playing with hues, shades, textures, fabrics and balance. When designing a space after a home renovation, it's important to consider the mood you're looking to set in certain rooms. Lilac hues create a lightweight and relaxed feel in any room, making it perfect for bedrooms and bathrooms. Living spaces work particularly well with deeper more jewel-toned purples that add depth and richness without being overwhelming or heavy. The accents will be important to create balance, as more purple shades go expertly well with white and cream shades as well as gold accents.
That's not to say purple can't work in kitchens also, as a light lilac shade in the place of (or alongside) the usual white still works well with the chrome appliance and fixture detailing of most kitchens to create a very modern aesthetic.
Just because they aren't exactly rooms, you shouldn't ignore hallways and entryways when thinking about ways to infuse more purple after. Often times in home renovations, we focus on the actual rooms and don't make serious consideration to the hallways that connect them all together. Especially if you've used the shade as an accent or main colour in a nearby room, carrying the shade into your home's main hallways are a great way to tie it all together. Whether it shows up as a solid wall colour, patterned high contrast wallpaper or large accessories like vases, front tables or mirrors, don't be afraid of injecting some of that colour and creating a focal point in your corridors.
Think beyond wall colour when working with purple, as it's one of the best colours to use as an accent tone or accessorizing with. Coupled with other cooler shades, purple truly stands out and, when used properly, creates great contrast without clashing. DOn't be afraid to use different shades together as well, but in moderation and closely linked by another feature like texture or pattern.
Blending well will brown, blue or grey pieces, purple has a way of injecting warmth in spaces with mainly "cool" hues. Its association with royalty makes it the perfect shade in spaces with luxe detailing.
After your next home renovation, don't be afraid to use some purple in your space; even if it's just in a small way.