Designing The Perfect Dining Room
Regardless of the size or style of your home, a place to eat will always be an important consideration. Since eating is such a big part of how most of us socialize, having a great looking dining room is one of the top priorities after a home renovation. It will be important to consider a few things before you make your decisions about your dining room. How often do you use your dining room? How many people will typically be seated there at any given time? Does the design need to properly flow into other adjoining spaces? Once you have a handle on those things, it will be much easier to make the necessary design and placement choices needed to have the perfect dining room catered perfectly to your tastes.
The Perfect Dining Table & Chairs
A dining set is without question the focal point of any dining room, a central feature in both form and function. It's important to choose carefully and go for high quality items that will last for years to come. While many homeowners opt for wooden tables, there's plenty of other options for dining tables from metals, to glass to more unconventional materials like lucite or resin. It's important to know that your dining set doesn't always have to be an actual set. Gone are the days when these items had to be exact matches to each other, instead look for table and chair combinations that complement each other due to similar materials, style or colour instead of looking for an exact set.
A Great Console or Wall Unit
Just like any room in your house, a dining room will need some extra storage for the items that you may not be using every day. Keep the style of the room in mind when making this decision, as well  The type of storage furniture you choose will rely heavily on the size and layout of the dining room. A large wall unit that may work in a closed off dining area may not work as well in a more open concept space that joins with a kitchen and/or living room, where a shorter credenza would be much more appropriate.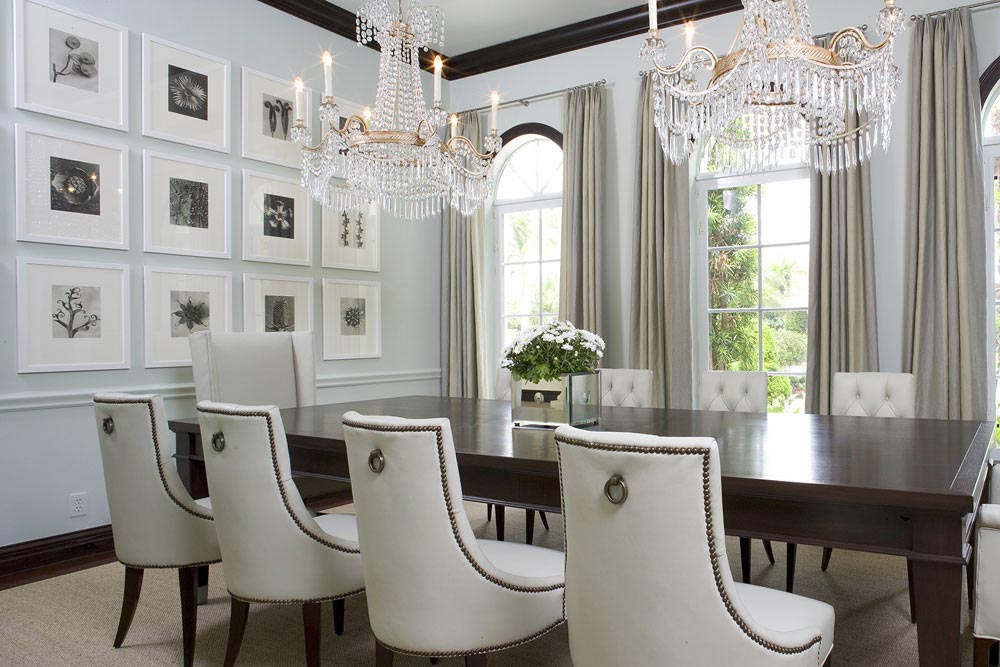 Bold Statement Lighting
Every dining rooms needs some type of statement-making lighting to set whatever mood you're hoping to set in it. While you don't have to go for a classic chandelier, a large hanging light is still the best for a room with a relatively large table. There's tons of styles and types of lighting in a numbers of shapes and sizes that can be great for this purpose without looking like your usual chandelier. If you did want to take a more contemporary approach however, there's not shortage of options for that either. The lighting will likely set the tone for what the rest of the space should look like, so a modern looking light fixture will do wonders in tying together a dining room with other modern elements.
Extras As Art
It should go without saying that there are any number of serving and eating-related accessories and tools that should be close by – particularly for storage in a console or wall unit. It's important to consider that some of these items can also be put on display, allowing it to double as art on shelving or side tables while still serving an important purpose when in use. Don't be afraid to look for items that are not only useful, but look fantastic when they're on display.