How To Repurpose Your Fireplace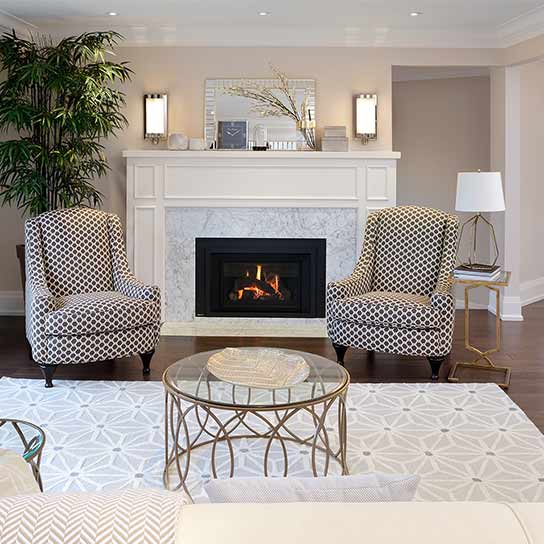 As much as homeowners crave change, there are some elements that are so important to a space that they generally stay the same. During any custom home renovation, you have the freedom to start fresh in terms of things you want to keep or get rid of in your space – and a fireplace is a common feature that can add plenty of warmth and comfort to any space.
For some homeowners though, they may be more enamoured with the form of the fireplace and mantle and not so much with it's actual functions. No matter the reason, some homeowners opt to use their fireplace for things a little less flammable. Here are just a few ways you can creatively repurpose your fireplace.
Art & Accessories
Depending on the design of your fireplace, mantle above it is where it's easier to take the most advantage. Make the absolute most of this area but using artwork and accessories along the length of it. Most fireplace mantles are at the perfect height to place art, just a little lower than eye level. From postcard-sized work to large posters or canvases, the possibilities are endless. You have the freedom of creating a gallery wall by hanging up pieces of different sizes and dimensions above the mantle, or also leaning them against the wall as they sit on the ledge alongside other more 3-dimensional pieces like statues and vases.
Floral Arrangements
Speaking of vases, your mantle is a great place for floral arrangements that may not have been a good fit above the heat of a work fireplace. Think of your mantle as you would any other surface in a living or bedroom space, like a side table or credenza.
TV Stand
A mantle is also a great place to mount of place a TV. Often times, a fireplace is designed to be the room's focal point and depending on the size and shape of the space, the perfect place for your entertainment unit. If the size of your TV and width of the mantle allows, you can place the TV on top of it like you should a TV stand or wall unit – freeing up other surfaces in your living room for other items like books, art, floral arrangements, home accessories and more.
Wooden Logs
A non-functioning fireplace doesn't have to look as unused as it is. The storage possibilities all come down to how much space is carved out – which can of course be changed in a home renovation. Keeping the rustic charm of many fireplaces is still important to many homeowners, even if they're not necessarily using them – which is why storing wooden logs is such a popular option. Wood is the material that comes to mind when thinking of fireplaces anyway, so it makes perfect sense.
Books
Books and magazines are also a popular choice, making the fireplace an extension of (or primary) book storage in that space. You can even add shelving to that space to create not only more room for more books, but also visual interest and a great organizational detail.
Candles
Another great way to keep the light and warmth to your fireplace is the use of pillar candles. This keeps the general ambience the same without the extra pollution or cleaning that some homeowners would rather skip.
Don't be afraid to get creative with your fireplace. You may not be using it to warm your space, but there's tons of other ways to make it central to your space.