Spa-Inspired Details To Take Any Master Bath To The Next Level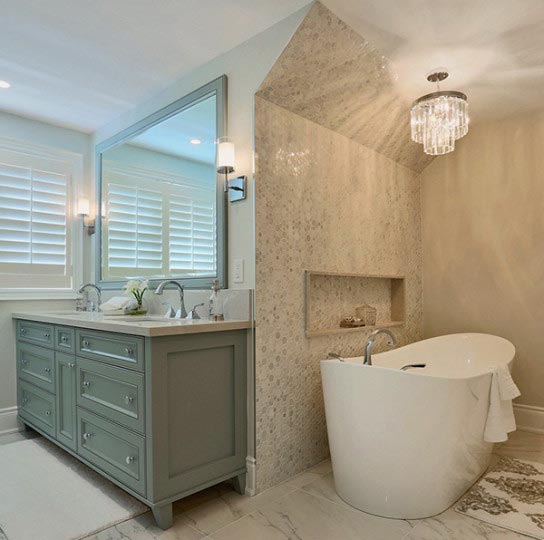 Many homeowners dream of a luxurious in-home getaway in the form of a spa-like bathroom. While powder rooms tend to be on the simpler side, master bathrooms open up a whole world of possibilities. Whether you're more partial to traditional design or modern minimalism, it's possible
Choose The Right Light
Lighting is an important part of setting the mood in a spa-like bathroom. While brighter lights are important staples in a bathroom, consider lower light for ambient light and then add additional alternative lighting like lamps and scones. You can also leave any existing lights intact and add a dimming function so you can decide the mood you'd like to set in the space.
Use Art To Make A Statement
Bathrooms are one place that homeowners often forget to put art, focusing on oft-used living spaces and bedrooms primarily. Having these additions not m=only makes the space more personal to you, but also adds more visual elements that can engage even more of your senses. A great spa-like bathroom is likely a place you'll be spending longer amounts of time even if it's just occasionally, so having these add-ons that tie the entire room together makes it that much more soothing to look at. Consider everything from larger statement pieces to a well-curated gallery wall, obviously making sure you go with pieces made from materials that can stand being around moisture and steam on a regular basis.
Don't Be Scared Of Warm Metals
Chrome is standard in the vast majority of bathrooms and though it can still be a huge part of more luxe designs, going for a spa-like aesthetic is the perfect time to experiment with warmer metals like gold and copper. Fixture, accessories and other bathroom furniture can include these warm metals – and you can also mix a few types of metals together for a truly unique look.
Go With A Free Standing Tub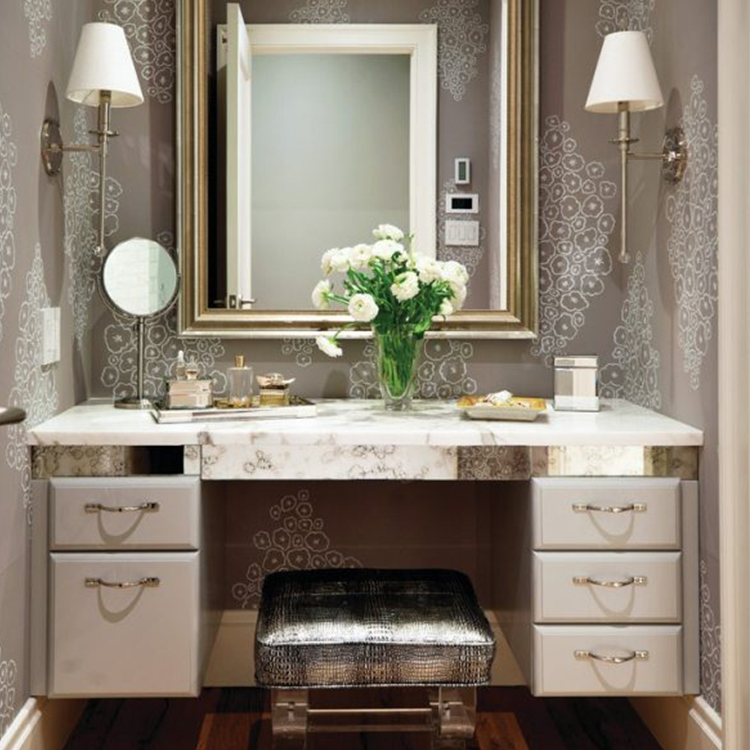 With showers and tubs, it makes sense for them to be the focal point of the bathroom. Going with a free-standing tub is the perfect way to turn it into a statement piece regardless of where it ends up in the room. You can have it on its own in one part of the bathroom or floating within a large enough shower for added luxe effect.
Add Some Seating
Seating is an important addition to a bathroom with a spa-like feel, and adding even a small seating area can create some real luxury in your master bathroom. Depending on the layout of the bathroom and it's relation to other parts of your home, it was be a great transition into the bathroom. And don't think of just upholstered seating, consider building in tile or additional seating inside large showers so that it can double as a sauna.
Go Green
In a spa-like bathroom, feeling calm can often involve connecting with nature and bringing elements of the outdoors in. Adding moisture-friendly plants to you bathroom is a great way to add personality, drama and scent to the space. Plants also help to purify the air and many thrive off the hot and humid atmosphere that tends to be present in most bathrooms. Plants like aloe vera, eucalyptus and bamboo are great to add to any bathroom for a more luxe feel.