Integrating Mirrored Furniture Into Any Space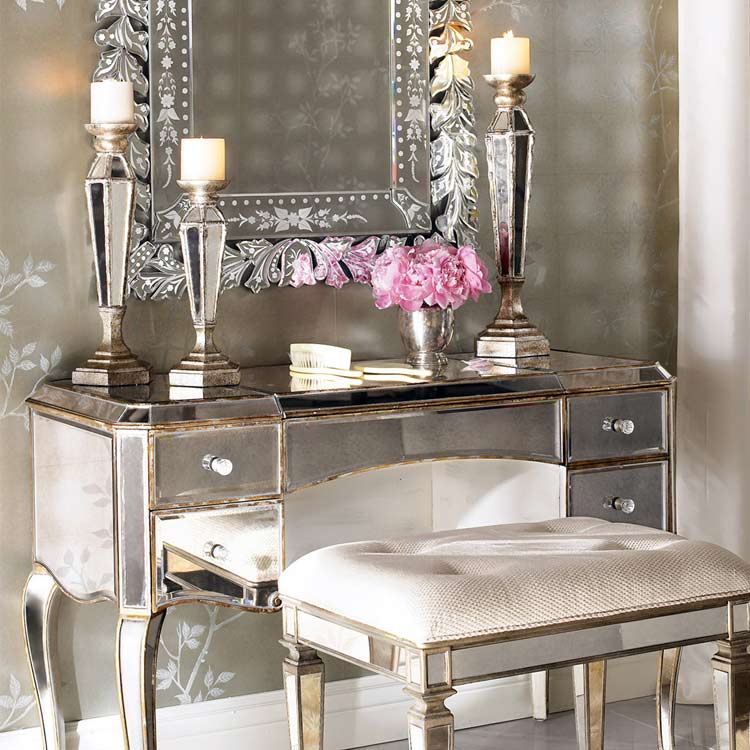 Most homeowners and designers are already familiar with using mirrors of various sizes as accent pieces or focal accessories, hanging or leaning them in various parts of a room and creating some extra light with its reflective surface. Mirrors are perfect for making any space feel a bit larger, and can come complete with (or without) frames that fit any style from traditional to contemporary. But there's more than one way too infuse more mirrors into your space with furniture.
Mirrored furniture can be a great way to add light and space to any room, not to mention a light and airy feel. Items with reflective surfaces give spaces a luxurious but boho feel and aesthetic, offering vintage worldly appeal while still channeling the glamour of 1930s Hollywood.  Though you're not likely to see chairs or lounges in reflective materials for obvious reasons, it's great for other types of furniture pieces. Some homeowners may shy away from these pieces feeling like they only work well in uber-modern space, but it's a detail that can actually be worked into any style.
Mirrored coffee tables are a great statement piece in any living room, and work especially well when paired with more modern spaces. Don't be afraid of pieces that are more intricate details with patterns or cutouts that work well in your space.
A large mirrored dresser or chest of drawers is a great way to bring more light and space into your bedroom when a vanity mirror doesn't quite do the trick. Bedroom furniture for clothing storage tends to be large, so creating more space is always a bonus to reclaim some of the footage lost from armoires, drawers and bedside tables.
A mirror dining table is a luxurious addition to any dining room, and a great accent in a space the most likely to have extravagant lighting, making it a a great way to double the shine. Mirrored accessories are perfect for homeowners who are still a bit wary about the trend. Whether they're displayed on a side table, mantle or other counter space, you can infuse mirrored elements subtly into your space in many ways. Since going full out with the mirrored furniture isn't the only way to get this look, it's important that you pay attention to items with reflective detailing on it. Everything from bed frames to seating can have reflective detailing in varying degrees.
The true beauty of mirrored furniture is that they work in virtually any space. While you can opt for one with specific colour detailing or tints, the piece will still largely highlight the colours that are present in the space through wall colours or other furniture in the room.