What's Next For Bathrooms?
In previous posts, we shared our colour and design trend predictions for the next year. With any custom home renovation, it's always good to have inspiration and an idea of what will and won't work in your space. Whether it's a main bathroom, master ensuite or a small powder room, the bathroom is an important room to consider when making your design plans. Different types of tiling coupled with chrome finished fixtures and light colours seems to be the standard for many bathrooms; but many of those tried & true features are changing. Here's a few new trends and design ideas to give you an look at what's next for bathrooms in 2016.
Feature Floor Tiles
Statement-making floors featuring custom tiling will be seen in many bathrooms for 2016. This is a great way to add colour in a unique way that won't overwhelm the room, particularly in powder rooms that are typically smaller than a bedroom ensuite. In these larger bathrooms, the tiles look elegant and are the perfect foundation for freestanding bathtubs. In bathrooms that don't have a clear, obstruction-free feature wall, putting this type of emphasis on the floor is the perfect move.
The Tub Inside The Shower
Large standing showers will continue to be a trend but with a twist: free standing bathtubs will be featured inside them instead of adjacent to them. Reminiscent of a sauna, there are other variations of this that include a bench inside the spacious shower.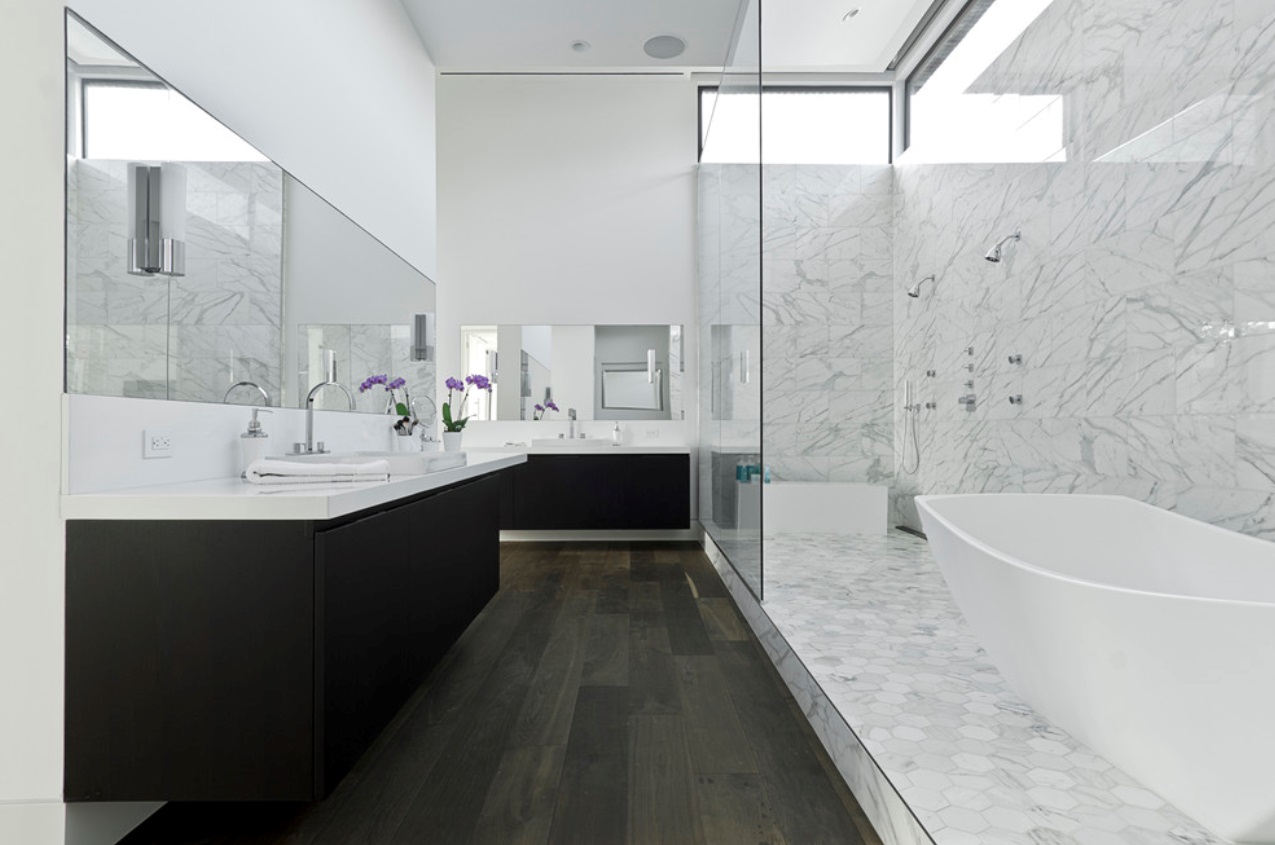 Gold Fixtures
While silver and chrome being the standard for bathroom fixtures, we tend to assume that's the only look that works in that space. These are typically the fixtures that come with a new home, and most homeowners take this choice at face value. Don't be afraid of high gloss gold, more weathered variations and even veering into copper tones for your faucets, doorknobs and handles for a look that is on-trend while still giving you classic appeal.
Dark Colours
Most people assume that you should only use lighter tones for your bathroom to have a "flow-y" feel to the space, but you have much more freedom than you realize. Particularly in bedroom ensuite bathrooms, darker tones and jewel tones can turn any bathroom into an elegant, luxurious escape within your home.
Don't be afraid to think outside the box and try something unconventional that truly reflects your personal style and works with the rest of the home.  No matter what trend you choose to follow for 2016, make sure it's a look you'll love for years to come.